Hello!
A little while ago I was part of a feature in TODAY daily newspaper on Foundations - the story was entitled A Work Of Art and featured a wide range of foundation shades.
The article aimed to show readers that there now is a wider range of foundations available in our stores to suit a wide variety of skintones - previously, MAC, Bobbi Brown and Make Up For Ever were the major brands that brought in a wider variety of shades. Recently, the arrival of Burberry Beauty with 13 shades of foundation, Laura Mercier with a good handful of shades, Becca with mind-boggling variety, there are so many more to pick from. 
The article also featured a chart of skin shades so that readers could try to gauge where they belonged - I liked how the chart was more nuanced than just very fair, fair, medium and deep which seems to be the most common way skintones are often described.
Here is a closer look at what foundations were used on me for that article:
The lipstick used in that photo was Maybelline Color Sensational in Crazy For Coffee, featured HERE
In real life, I also use the same shades in Laura Mercier and Estee Lauder. I thought I'd do an extension of this article and feature all my base products in a series of entries and I start off with my foundations in this first installment.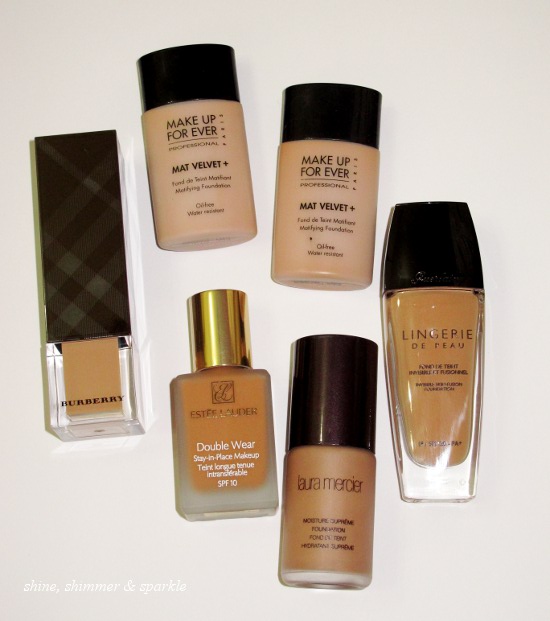 These are the foundations I currently rotate - I missed out the Benefit Oxygen Wow foundation in this shot though.
Let's take a closer look at everything.
The Burberry Beauty Sheer Finish Foundation in No.10 is my current favourite for its creamy texture, dewy finish and accurate shade for me. It is one of the few foundations I can use on it's own without mixing any other shades in. I also love it for the ease of application.
In Singapore, there are 3 more shades deeper than No.10.
Click HERE for my review

********************************************************************
Next up, another new foundation which I have been using off and on is the Benefit Hello Flawless Oxygen Wow Foundation in Amber. This has a much lighter coverage than some of the other foundations in my  stash. For this, I can either use it on its own or mixed with the teeniest drop of my Laura Mercier shade. This has a nice glowy, luminous finish.
In Singapore, there are 2 more shades deeper than Amber.
Click HERE for my review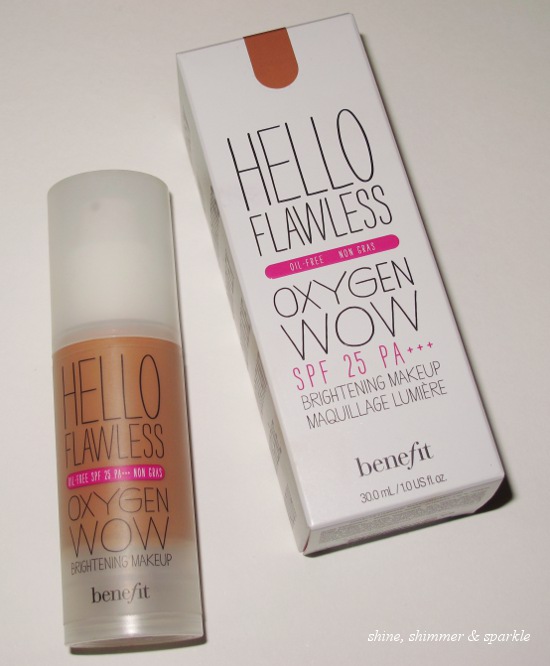 *******************************************************************
One of my favourites in terms of longevity is the Estee Lauder Double Wear Stay-in-Place Makeup in Warm Bronze. This has great texture and a very smooth matte finish which lasts for long hours. Unfortunately, Warm Bronze is a little too deep for my skintone - from application itself, it has a more brown, caramel look about it. Nonetheless, I can adjust the shade by mixing a lighter shade in it - I don't need to adjust it too drastically which is great because I still enjoy the long-wearing properties of this foundation.
I just realised that I never really reviewed this foundation - I've mentioned it numerous times on this blog as part of the makeup breakdown in looks though - I've been using it since last March and I've gone through quite a few bottles already. Since I use this primarily to mix with other shades, I prefer to use a pump with it for easier and more accurate mixing - the foundation pump from MAC fits the neck of this bottle perfectly (you might have to trim a little off the tube though).
****************************************************************************
This is the Laura Mercier foundation I'm enamoured with - Laura Mercier Moisture Supreme Foundation in Golden Beige.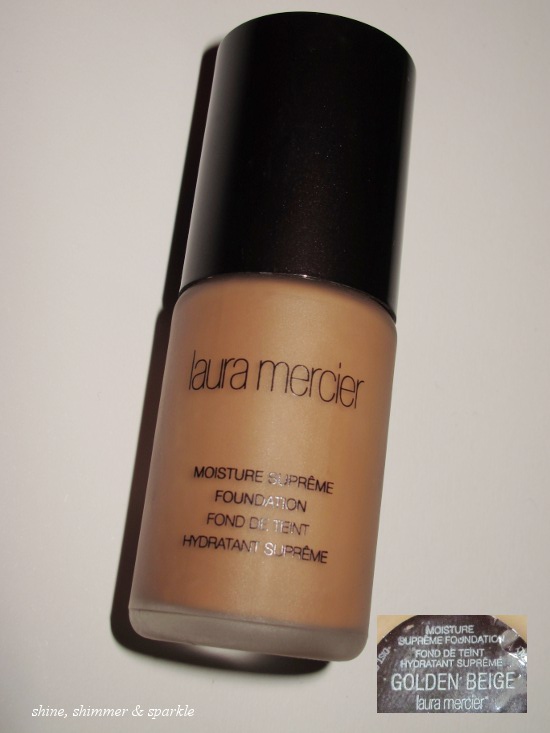 I love pairing this with the Estee Lauder Double Wear Foundation in Warm Bronze in a 1:2 ratio respectively.
This has a thinner texture as compared to the Estee Lauder Double Wear Foundation which makes this a perfect partner - the resultant texture is smooth, creamy and spreads very easily on skin. Laura Mercier's Golden Beige looks a little deep in the bottle but is lighter when pumped out - there is this golden-yellow tone to it that makes it great for illuminating the visage.
Golden Beige is the second deepest shade available in Singapore - there is yet a more brown-toned shade, Rich Sienna.
**********************************************************************************
Make Up Forever Mat Velvet Foundations are also known to be long-wearing foundations like the Estee Lauder Double Wear foundations. I initially bought 65 but stopped wearing it after I found it to oxidise a tad brown on me - I very recently bought 55 to mix into it. I like the texture and finish - smooth and rather matte and it lasts relatively long on me. However, since these are not pump foundations but smooth, viscous formulas that pour out easily from the spout, eyeballing the accurate mix needs a little practice. 
The MUFE Mat Velvet foundations have several other deeper shades (it goes up to 90).
************************************************************************
And finally, I have Guerlain Lingerie de Peau in 24
I made a mistake with this purchase actually - I think I'm supposed to have bought 23 instead, which is wee bit lighter and yellower. I love the texture of this foundation - it's very smooth-flowing and hydrating and skin feels so comfortable when I use this. I sometimes mix a little Laura Mercier Golden Beige into this or I use this to play with light.
This bit about playing with light - I learnt it from Makeup Maestro Larry Yeo (who did the makeup for the TODAY article) and I've also read other makeup artists like Scott Barnes talk about it. Deeper skintones sometimes require more than just one foundation shade - looking at the mirror with no makeup on, I can see that my forehead, nose and the front of my chin and the tops of my cheekbones are slightly lighter. Hence,  like what is written in the article, I can use a slightly lighter, more luminous foundation on these areas and then fill the face with a shade that's closer to my skintone. I can go a step further and contour with an even deeper shade.
Using this same logic, I often use the Guerlain Lingerie de Peau around the jawline and blend it down towards the neck - its a little deeper but the fluid texture makes it blend very well around these areas. 
The technique of playing with light and using different shades of foundation to contour - it takes a little time and practice to get it the way it's supposed to be and it also has to be done in a room with good lighting so you can see exactly how it looks. I do it sometimes but more often than not, I just use one shade (either alone or mixed for colour accuracy) and then contour a little with the Guerlain Lingerie de Peau around the sides of the face and below the jawline. I also use a powder contour - Bobbi Brown's matte bronzer in Dark.
***************************************************************************
Here are a couple more shots from the TODAY article shoot - it was nerve-wrecking for me because I had dear Larry looking really closely at my bare skin (which was quite spotty around the chin at that time) and then the camera and the lights - the photographer, Jason, was very very nice and made me feel comfortable. The chaps who did my hair - Alvin and his friend - and Larry were all very chatty and chirpy and that put me at ease too :) It was fun and very very memorable. 
All the foundation laid out for use - so neat and organised! They were also recording the specific products used for all of us to ensure no mix-ups.
The very simple set - everything was to be clean, white, neutral.
And here's how the makeup looked in real life - pretty much similar to how it looked in the print version of the TODAY newspaper - the online version looked very different (the lipstick looked almost purple!). Larry snapped this shot with his phone.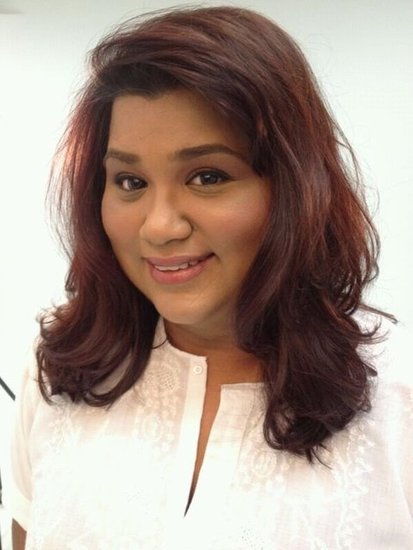 A lot of folks told me I looked very different - I think it's the very neutral eye! I liked it though - very clean and simple. And I loved the contouring around the cheeks!
********************************************************************************
Thanks again to Larry for the lovely makeup and everyone on the set for making me feel so comfortable. Also thanks to all my chums who were excited for me :)
Thanks for stopping by and hope you found this useful! The next installment in this series will feature Concealer, Corrector and my Concealer brushes :)
********************************************************************************
Disclaimer: All products featured in this post were purchased with my own money. I am not affiliated to any of the brands mentioned.