Hello!
Here's a peek into the hectic activities backstage at the Audi Fashion Festival 2012 where the MAC team was busy busy busy getting all models ready for the Mugler show.
Before that, let me share with you some shots of MAC Senior Artist Beno Lim, demonstrating some of this season's key makeup trends - I sneaked in some shots while it was being filmed :)
As has been key for a couple of seasons, the base is always kept light and dewey - fresh, clean, touchable skin. Prepping the skin is so important and no matter how hectic things are, I've noticed Beno and the MAC team to always carefully prep skin and blend out base products on the model.
To achieve this base look, Beno uses a mixture of products:
MAC Prep+Prime Moisture Infusion Serum is mixed into foundation - the foundations most commonly used on the models were the Studio Sculpt Foundation or the Face and Body Foundation. For a more dewey finish, Beno also added a teeny drop of MAC Cleanse Off Cleansing Oil to the mix for a lighter consistency.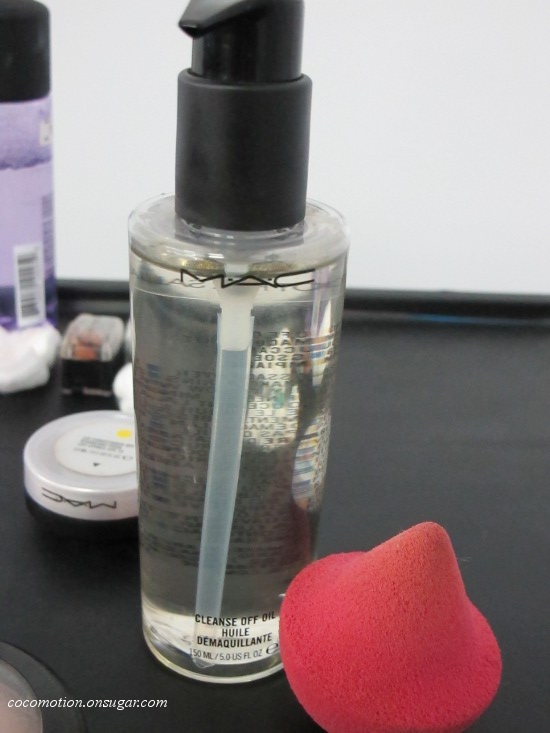 While foundation brushes and stippling brushes were used to apply the foundation, the MAC Pro Performance Sponge was used to even out the foundation on skin. The Pro Performance Sponge is LOVELY - it is so soft and almost velvety. I very recently purchased it (SGD$34 at the MAC Ngee Ann City Pro Store) and I love how it feels when I bounce it or roll it on my skin - more on that in an upcoming entry.
To complement the dewey look, highlighter is applied - mostly in a "C" shape around the temples
I didn't quite catch what product that was but I do know that Beno loves the effect of MAC Cream Colour Base in Pearl for that soft luminescence.
Shaded brows are also in - Beno took his time to fill in the brows with a Brow Pencil for that polished, full brow look.
As for eye colours, he also mentioned Green and Yellow are very on trend as well - Green is ALWAYS ON TREND FOR ME! Yay! :D
And the look was completed with a very soft burnt coral blush. Clean, fresh and bright.
********************************************************************
Moving on the backstage mania - models, clothes and the teams working at a fast and furious pace to get everyone spiffed up in time - I almost felt a little guilty for standing around in the limited space available! And I tried my level best not to use flash photography because I didn't want to distract the makeup artists.
There were actually 3 different looks used for the Mugler show - a clean natural look, a geometric black eyeliner look as well as a creative deconstructed RED eyelook. Mugler is known it's more unconventional take on fashion and makeup - Mugler's Creative Director Nicola Formichetti has collaborated with Lady Gaga and has been credited with Lady Gaga's Meat Dress in 2010 and the Egg Hatching yellow latex suit at the 53rd Grammy Awards
Nicola Formichetti and French Designer Romain Kremer at the end of the Mugler show at the Audi Fashion Festival 2012.
Image credit: The Star Online
The RED look is acutally an unconventional interpretation of the the black liner - the red is actually fragmented in the structure as you will see in the shots below - it is not one solid patch of red. However, the way it is carefully painted on still respects the "architecture of the eye shape" and thus tailors to and enhances the shape of the face, according to Beno.
For the red, MAC used MAC Chromacake and Paint Stick in Basic Red.
This was the look they were creating:
And here are shots of the MAC team, brows furrowed in concentration, getting the red look done:
That's Francis - he seemed to be one of the go-to MAs with whom several other MAs were getting the looks they created checked. Francis is a great MA - I've purchased from him several times - including my much beloved MAC #150 large powder brush - he's always honest when you ask him questions :)
As you can see above, the design starts off small and I was watching as how precise short strokes, lots of careful blending and concentration amongst the chaos was required.
Actually, I kinda liked this look that this MA, Zona, was sporting. I don't think everyone can wear this but she seemed to pull it off effortlessly. Niiiiice!
And no backstage report is complete without shots of the endless makeup strewn on the tables ...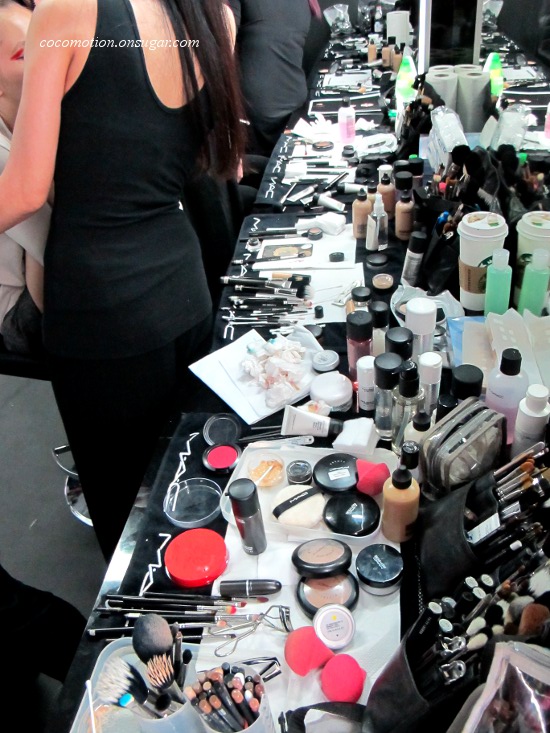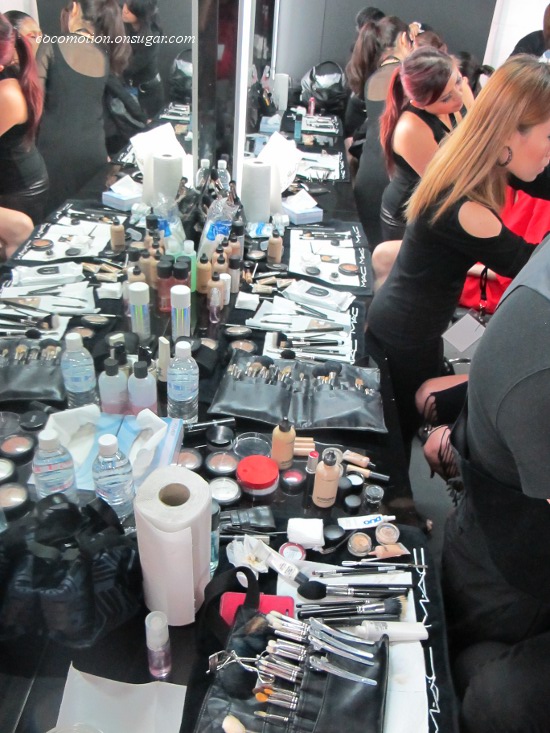 More loot! Carefully-guarded Suitcase full!!!
I think buzz of activity really doesn't capture the momentum ...
And yet there is calm within the chaos ... models relaxing, chatting and taking a bite before the show starts ...
****************************************************************************
I hope you enjoyed the peek into backstage at the Audi Fashion Festival 2012 - it's always fun to watch everyone in action. I hope you found the snippets of information on trends useful as well :)
Anyone up for trying to re-create this RED eyelook? I love the one Zona sported - I might try it!
****************************************************************************
Thanks for stopping by and have a great week ahead!
*****************************************************************************
Disclaimer: All opinions are my own and have not been influenced by anyone. I am not affiliated to MAC.