Hello!
I wanted to do my annual Breast Cancer Awareness Giveaway this year but my plans fell through due to a rough patch I went through. So I thought I'd do it as a Last Minute, Last Day Of 2012 Giveaway - it is 1148pm (on my laptop at least) on 31 Dec 2012 as I type this out.
I have 2 sets of prizes for 2 randomly picked winners. Here are the details of Set A and B:
Leaders Clinié Caviar Repairing Mask

My Beauty Diary Orange Blossom Mask

DHC Medicated Gel and Cream 

Crabtree & Evelyn Hand Therapy in Himalayan Blue 25gm

White Musk Libertine EDT 30ml

Philosophy Purity Made Simple Cleanser 90ml

The Body Shop Strawberry Shower Gel and Body Butter Travel Sizes

REN Moroccan Rose Shower Gel Travel Size

Colour Club Mighty Brights Nail Polish Set

Maybelline Baby Lips Pink Glow Lip Balm

Maybelline Hypercosmos Eyeshadow in BU-1

Clarins Hydraquench Mask 15ml

Clarins High Definition Body Lift 30ml

First Kiss Nail Artist Nail Art
*******************************************************************************************
Leaders Clinié Platinum V-Lift Mask

My Beauty Diary Orange Blossom Mask

DHC Moisture Fruti Lotion and Cream

The Body Shop White Musk Libertine Body Mist

OPI Pink Of Hearts Nail Polish Duo (sponsored by dear

Tammy of Tim Tam

!)

Laneige Sleeping Pack Deluxe size

Philosophy Purity Made Simple Cleanser 90ml

REN Moroccan Rose Shower Gel Travel Size

Crabtree & Evelyn Hand Therapy in Lily 25gm

Clarins White Plus HP Whitening Moisture Day Emulsion 15ml

Clarins Extra Firming Neck Cream 30ml

Clinique Lipgloss in Kissyfit

First Kiss Nail Stickers
These 2 sets consist of products that I love and use myself and from my personal stash, as well as brands that I trust. All products are brand new. 

All you have to do to participate in this giveaway is:
Be a follower of this blog

Leave your name / nick and a valid email address in the comments below

Giveaway open to readers based in Singapore only 

Giveaway closes on 10 January 2013 (forgot to mention it earlier! :P)
If you like, you can also share your New Year resolutions or aspirations with all of us.
I saw this on my new friend, Joanna Koh's Instagram and thought it was a fab idea - I've got my jar ready and will be filling it up the moment I post this entry. I'm sharing this here in case you might want to :)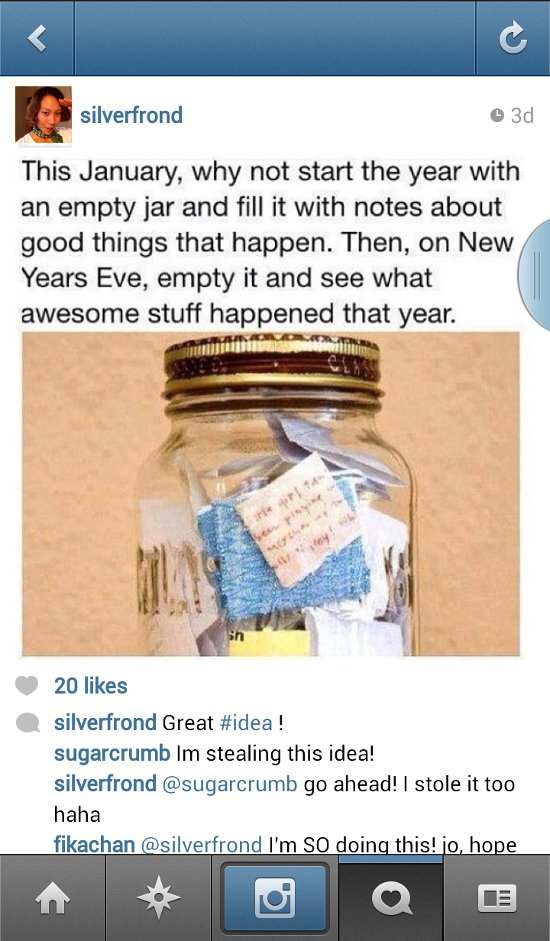 This year had several ups and downs for me and I can't say that I achieved everything I set out to either. But I want to leave all of that behind and start afresh. I believe that there are better things lying in wait for me and for you and if we work towards it, sooner or later, things will materialise. It may not always turn out how we imagined but my Mom always says, what you imagine might not always really be the best and something even better might be planned for you. So with that in mind, I'm taking a step forward and hope everything will be roses, honey and milk :) 
Happy New Year everyone and let all our good wishes come true :)
*******************************************************************************************
Disclaimer: Giveaway prizes feature a mix of products purchased with my own money as well as some that I'm sharing from the bounty I've been fortunate to receive. OPI Pink of Hearts set is kindly sponsored by Tammy of Tim Tam.