Hello!
The Green Files is a series of posts showcasing green-themed nail polish and makeup in honour of Earth Day 2012.
Today's Green Files entry features a not-so-typical green eyeshadow - the RMK Ingenious Eyes in SH-10 Greenish Gray.
RMK's Spring 2012 collection, Sprinkling Colours featured 2 new Ingenious Powder Eyes, Greenish Gray and Gold (SGD$59 each)
These glimmering eye shadow singles are very very attractive - there are a couple in the permanent range and I end up swatching a few everytime I pass by the RMK eyeshadow counter. To be honest, the high price point really had me gagging the first time I asked but I've since heard that there are real silver particles in the formula.
Greenish Gray is really beautiful in the pan. In some angles, it has this khaki grey cast while in other angles, you can see the green glimmer in it.
Stronger lighting and flash photography really bring out the green tones...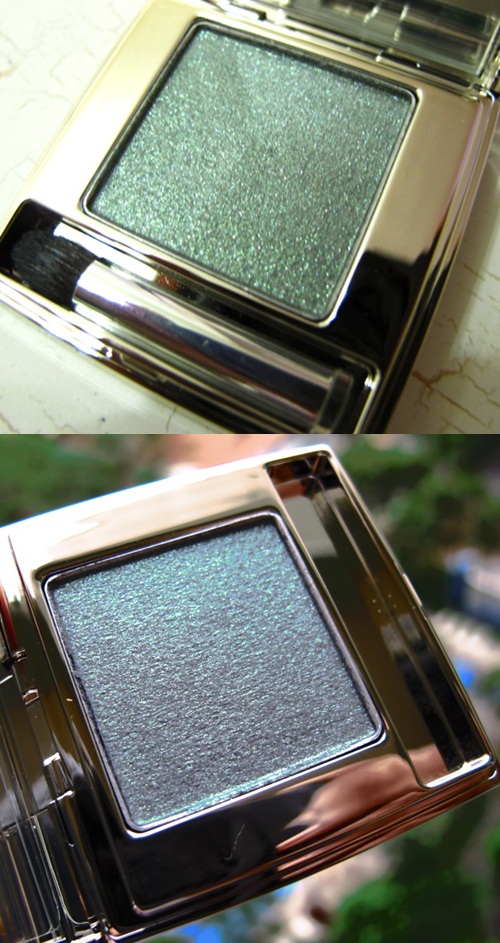 Swatch it and you will be surprised at how smooth it feels - no chunky, gritty glitter at all. It is not very pigmented in the first swipe - the use of a good base and about 2-3 layers will help you achieve the desired opacity.
I like my eyeshadows a little stronger so I used a coloured base, Sephora 12 Hour Jumbo Crayon in Khaki with Greenish Gray. In the look below, I just used Greenish Gray all over my lids and my crease, blending a gold eyeshadow near the crease and into the brow bone.
In the shot below, you can see the greenish reflects peeping through (I really like this shot in particular; the eyeshadow has that looooovely glimmer!)
And in this deliberately blurred shot, you can see all that greenish glitter!
And with all that glimmer in the eyeshadow, you might be inclined to think that there might be fall out or migration of the particles - I didn't have any such problems. I took this shot about 8 hours after I applied my makeup and you can see how everything is pretty much intact
And here is how the whole look turned out.
And what complements green tones for eyes better than orange or coral cheeks? In the shots above, I used RMK's new blush duo, Sprinkling Cheeks in ORANGE
I'll confess - there is an order in applying the cheek colours. The smaller pan actually contains a "creamy base colour" (the gold) and that is supposed to be applied FIRST and the actual cheek colour (the orange) is supposed to be layered on top. However, the creamy base feels like a wonderful powder highlighter - it has the glide of a creamy base but really feels like a powder highlighter so I did my usual routine of applying the orange blush first and swirled the gold on top. Good news is that it still worked!
Orange is part of the new Sprinkling Colours Collection and shares the Limited Edition spotlight with 2 other blushes, Pink and Brown (swatches of Pink and Brown below!)
Brown is actually a very pretty combination to create that sunkissed bronzed look ... didn't realise how pretty it was till I was cropping the photos!
************************************************************************
The RMK Sprinkling Colours Collection is available at RMK counters located in Isetan stores and Takashimaya.
Thanks for stopping by. Have you gone green yet? :)
**************************************************************************
Disclaimer: Both RMK products featured were provided to me for consideration. All opinions are my own and have not been influenced by anyone.