Hello!
I'd been waiting for the longest times for the new Sally Hansen Gem Crush polishes to arrive and I was elated to find that they had finally made an appearance in our Watson's stores, thanks to an alert by Mag. Here are the 2 shades I picked up
Be-Jeweled & Lady Luck
There are supposedly 8 shades in the collection according to Scrangie's review  but I didn't see the pale peachy rose Razzle Dazzler and pale gold Big Money here - unless it was totally sold out before I got to it. Here are stock images of all 8 shades in the collection: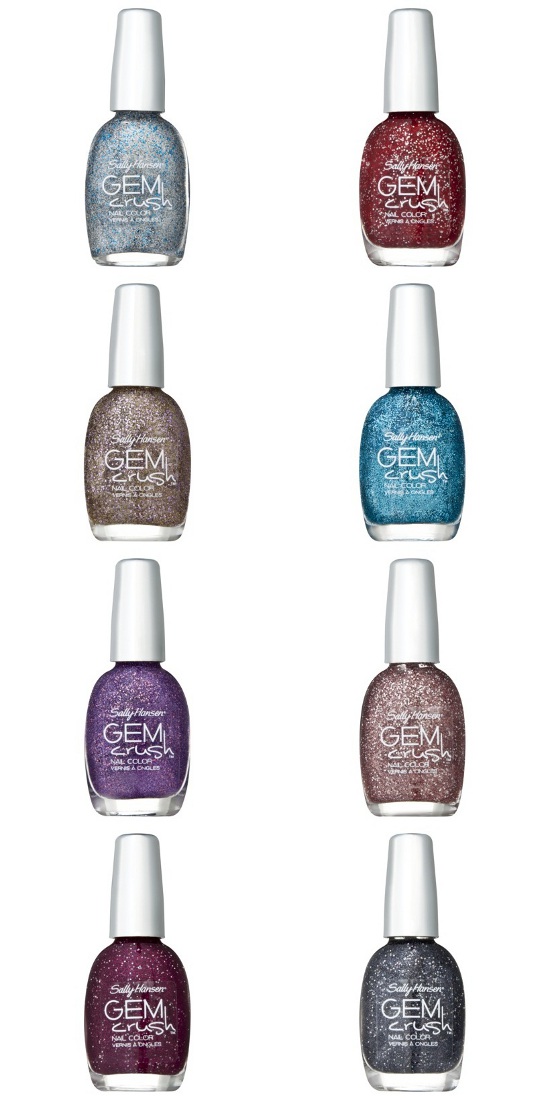 And here is what was left after I picked up Be-Jeweled and Lady Luck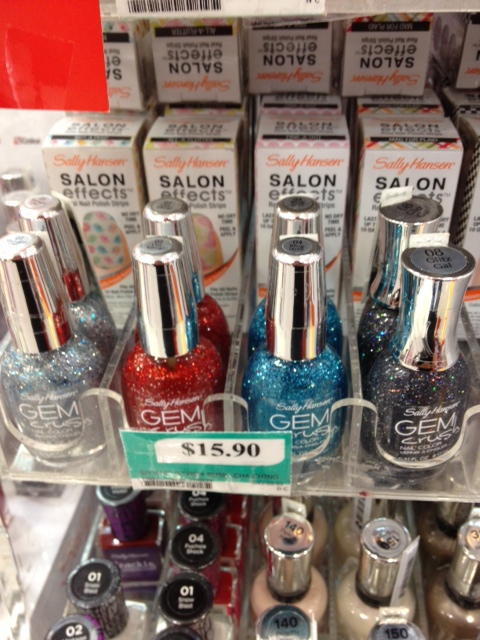 L-R: Showgirl Chic, Cha Ching, Blingtastic and Glitz Gal
These retail at SGD$15.90 each but Watsons had a 20% discount going on when I picked them up - around SGD$12.72.
These are a little similar to some other glitter polishes OPI and China Glaze have put out the past holiday season - most notably the China Glaze Eye Candy glitters. Different sized and hued glitter in a clear base. I shan't say they are exact dupes since I didn't buy the rest of the Sally Hansens to compare but from eyeballing and online swatches, you can tell they are close enough
Sally Hansen's Showgirl Chic is very similar to China Glaze Lorelei's Tiara
Sally Hansens's Cha Ching is very similar to China Glaze Love Marilyn
Sally Hansen's Glitz Gal is very similar to China Glaze Some Like It Haute as is the same idea that is Orly's Rock Solid.
I picked up Be-Jeweled and Lady Luck since I have nothing in my stash like these. Here are the swatches. In these pictures, I'm swatching them exactly like how I would wear them. I have not enough patience to wait for 3-4 coats of polish (not counting base and top coats!) to use these glitters on their own ... not to mention how 3 layers of glitter can be really tough to remove. So I'm using these as glitter toppers on similar coloured bases. (FYI: Scrangie did 3 coats in her swatch post HERE)
I must say that the glitter is really dense - one coat gives you more than enough coverage for the full nail and I just need a very very thin second coat just to make it more blingy. 
I think the shape of the brush - rounded and broad - also helps to get a good layer of glitter on the nail in one stroke - I didn't experience patchy glitter depositing.
First up, Lady Luck
Lady Luck is deep fuchsia glitter with lots of tiny holographic glitter strewn throughout. I decided to use a 1 coat of a deep fuchsia base to match - here I've got Bourjois So Laque in Violet Couture.
I like Lady Luck - it's deep but not vampy and very cheerful looking. The fuchsia glitter is super fine though - I would have preferred if it was just a tad larger for a more dimensional effect. In this polish, the holo glitter is the one that takes centrestage, gleaming against the deep fuchsia background.
**********************************************************************
Now on to Be-Jeweled ..
Be-Jeweled has small light violet purple glitter and small golden-pink (or rose gold?) glitter in a clear base. There seems to be quite a lot of golden-pink glitter in the mix so every nail gets a good sprinkling of it. I love this so much - it's rare I go gaga over a purple polish but this one was total love. It's my Be-Loved Be-Jeweled.
For the swatches, I used 1 coat of a similar light purple polish - OPI's Do You Lilac It - a perfect complement that didn't detract from the loveliness of Be-Jeweled.
I really like the colour combination and the purple is just the right tone - not too dark, not too pale plus the golden pink glitter just makes it so girly-feminine!
If anyone spies the pale gold, Big Money, pls pls let me know - it is a light gold laced with deeper violet purple glitter and I would love to get my hands on it!
*************************************************************************
Thanks for stopping by and have a fab week ahead :)
**************************************************************************
Disclaimer: All products featured purchased with my own money. I am not affiliated to Sally Hansen.