Hi!
I popped by the Burberry counter at Tangs last week and my fave BA there, Mindy, showed me a tester of the new highlighting palette from Burberry's Summer 2012 collection. One swatch and one sniff and I put my name down for it!
The Sheer Summer Glow Natural Highlighting Compact (SGD$90 / 10gm) is the centrepiece of Buberry's Summer 2012 Collection, Sheer Summer Glow. Along with this compact, there are 4 new Lip Mists (a delicate lipcolour that is a cross between a lipstick and lipgloss)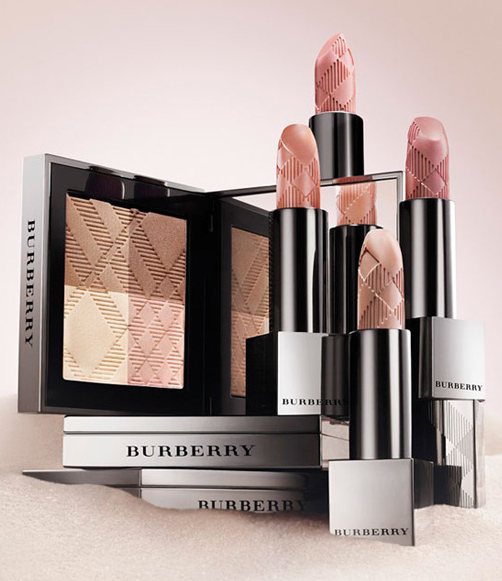 As you can see from the promotional image above, the entire collection is centred around the nude, natural theme, unlike other brands that tend to roll out bold, fun brights for Summer.
I do not usually gravitate towards nude looks - I always love a pop of colour but I'm beginning to enjoy variations of nudes, mostly with a little sheen or subtle golden hues for my makeup and nails (more on that in an upcoming post). To be honest, I've always felt that clean, stripped-down looks on my skintone would look more blah and dull than anything but I've seen (and shown) how with suitable products, some strategic contouring and accents on either eyes or lips can actually be pulled off.
And I thought that this nude-themed face palette would make a great addition to my stash.
Burberry describes the palette as a way to create "an effortless everyday summer look for all skintones" by gently highlighting and defining the face.
I love it.
I love how it looks - 4 shades of tan, golden beige and nude rose pressed with the iconic Burberry insignia. It looks chic and very pretty.
I love how it's scented - I can't quite figure out the scent of this one - a little woody, a little floral-violet but whatever the scent is, when you're sweeping it on, it's just luxuriously pleasurable.
I love how it wears - unlike other bronzers or highlighters, the 4 shades don't contain any frost although you might see some shimmer in the pan or in heavy swatches. There isn't any matte shade either which is great for me since some paler matte shades can turn muddy or chalky on me.
It has just the right balance once buffed or applied to skin with a large brush - it creates a beautiful luminosity that I cannot get from my other highlighting products like the MAC Mineralised Skinfinishes, Bobbi Brown Shimmerbricks or Laura Mercier's Mosaic Shimmer Blocs. With the other highlighters, I'm restricted to just buffing them atop sheerer or more matte blushes for an added glow.
With the Burberry Sheer Summer Glow Natural Highlighting Compact, I can use it more daringly like along the temples, tops of the cheekbones or even all over the face as Burberry suggests for a ... wait for it ... Sheer Summer Glow *grin*

After I picked it up, I thought, ok ... I had a momentary lapse of reason and I fell for it - it looks tooooo natural and I just bombed a cool $90 on it.
And then I took one more look at it, sniffed the compact and buffed it lovingly on my skin ... nope, I made a smashing decision.
I love it!
*******************************************************************************
Thanks for stopping by and have a lovely week ahead!
*******************************************************************************
Disclaimer: Product featured purchased with my own money.