Hola!
A quick entry on a recent haul I made over the weekend - the Chanel Bombay Express Collection made its appearance exclusively at the Chanel counter in Takashimaya and I jetted off to make some of it mine. Looking at collection images online, I decided that I wanted the Routes de Indes de Chanel Illuminating powder and the nail polish in Diwali. And exactly what I picked up!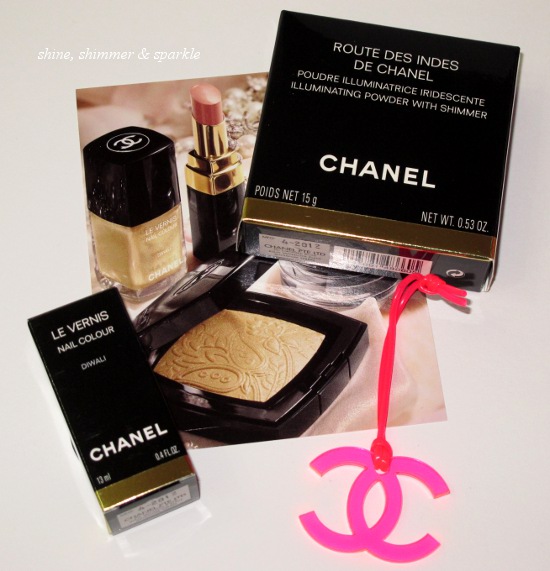 "The makeup of the "Paris-Bombay" runway show whisks us away to a fantasised India where the mystery of black meets the sparkle of gold"
I like that hot pink charm - would have been even more awesome had it been in gold!
Truth be told, this is the 2nd Chanel gold collection I purchased from - I previously picked up the highlight powder, Lucky Stripes and the vernis Gold Fingers, from the Vegas Collection - packed it away and forgot about it. I recently "unearthed" that treasure - I should feature it and call it "Treasure Hunt" :P
**************************************************
I wanted Diwali the moment I saw it - from the online images, it looked very different from Gold Fingers and Delight but sometimes online images can be deceiving. Not with Diwali. It was exactly how I envisioned it to be.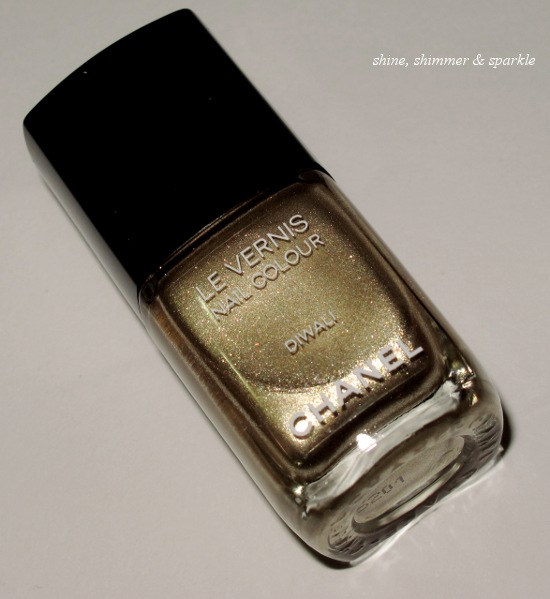 A beautiful pale gold foil polish shot through with loads of silver sparkles - it's been referred to as a gold-silver hybrid. 
It had me very enamoured just from the swatch I did in-store (on scotch tape) - I'm waiting for my nails to grow out a little before I wear this. And I'm definitely wearing this for Diwali this year.
I've mentioned before foil polishes are one of my favourite finishes - I'm so glad Chanel did another one in Diwali to complement Graphite and Delight.
Imagine an aqua or teal in this finish?
**********************************************************************
I also picked up Route des Indes de Chanel ... a total extravagance (and not to mention how brand new Lucky Stripes is staring at me in my face). But it was rather hard to pass up.
The illuminating powder is gorgeous to look at in the pan - you should check out that gleam in the store lighting. Breathtaking.
The embossed design looks like a lotus flower - and the lotus is the national flower of India, which goes very well with the theme. 
The design on the highlight powder is apparently inspired by a rare piece of fabric from an Indian-themed collection created by Chanel in the 1960s. 
The highlight powder glistens with an overspray of silver glitter - the overspray isn't the finest and can be brushed off rather easily. In the slightly blurred shot below, you can see how that silver glitter gives the highlight powder that glistening, glimmering effect.
But unlike some other highlighters released in other brands and collections recently, the glimmering overspray does not sweep away to reveal a matte highlight powder. 
What lies beneath is a gorgeous, yellow-toned gold powder with very soft, fine shimmer. It doesn't have the frostiness or starkness I've seen in some of my other highlighters. A very elegant look - rather than shimmer or frost, what you'll see is a delicate glow.
I only wished that Chanel did something different to the compact for this collection - like a gold imprint on the casing in a similar design ... that would have just really brought it all together. 
*********************************************************************************
If you like gold-toned makeup, this is definitely something worth checking out - it's definitely not a must have - with Diwali at SGD$37 and Routes des Indes de Chanel at SGD$100 - these are luxurious little treats. I'll dub them presents to myself to reward myself for all the hard work I am GOING to do ...
I'll be sure to feature these in upcoming entries!
Thanks for stopping by and have a fab week!
**********************************************************************************
Disclaimer: Products featured purchased with my own money. I am not affiliated to Chanel. All opinions are my own and have not been influenced by anyone.