Hello hello!
Lots of entries piled up in folders and this one comes out first because I've been eagerly awaiting the OPI Holland Collection for EONS! I first saw swatches of this collection on Fashion Polish way back in Nov 2011 so you can imagine how starved I was for these!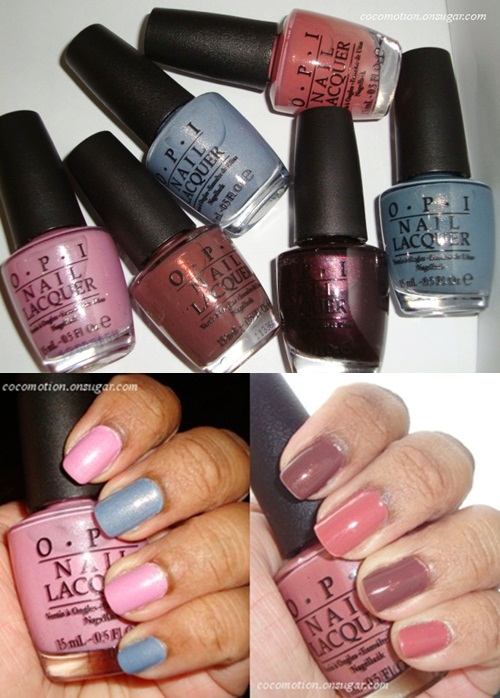 I picked up 6 shades from this collection - mostly the shimmers :) I got these from Dyon International (Flea @ *Scape)
Here are the swatches of all the 6 shades I picked up
Fashion Polish has beautiful swatches of the entire collection - click on the link above for both the Cremes and Shimmers :)
I don't regret any of these choices although I wished that I Have A Herring Problem had a tad more teal or green in it - that would also make it more distinct from I Don't Give A Rotterdam. The fleck formula in Pedal Faster Suzi, I Have A Herring Problem and I Don't Give A Rotterdam is sooooo beautiful!
I have since worn 4 of these shades in 2 manicures over the weekend - a Warm manicure and a Cool manicure :)
In the Warm version, I alternated Gouda Gouda Two Shoes with Wooden Shoe Like To Know (which is what I'm currently sporting)
Gouda Gouda Two Shoes looks like an antique browned rose in some swatches but on me, it pulls very coral rose - I love it so much I also have in as a pedicure. It has fine gold and red shimmer that give it that extra oomph. 2 coats for full opacity.
Wooden Shoe Like To Know is a chocolate brown but there is a hint of red that keeps it from looking too dark or like a regular brown. This one also has red and yellow shimmer in it and also only required 2 coats for full opacity.
For the Cool Manicure, I used Pedal Faster Suzi and I Don't Give A Rotterdam
I really really have grown to like sweet pinks like OPI Sparrow Me The Drama and now Pedal Faster Suzi. I Don't Give A Rotterdam is of course something I won't be able to say no to - look at the visible pale gold and silver flecks!
The thing with these 2 polishes was that it was a little sheerer - 2 coats and my nail line was still rather visible. So I decided to use a "petticoat" - 2 similar looking opaque shades as a base. I used just one thin coat of China Glaze Electric Beat and Essence Enchanted Fairy and perfect!

I felt the dry time on these polishes were good - seemed to dry a little faster than some other OPIs and I'm so glad OPI made these fleck polishes; wish they will make more in really nice shades like royal blue, leaf green, turquoise and maybe a black?
If you haven't already, you should really check these out! Gorgeous!
*************************************************************************
Thanks for stopping by and have a great week ahead!
**************************************************************************
Disclaimer: All products featured purchased with my own money.