Hello!
Ahhhh ... Just when we thought that Shu Uemura has possibly one of the largest range of eyeshadow shades available, they've gone and added a couple more - this time, lovely lovely sparkling, glimmering, gleaming glitters in the new SPARKLING GLITTERS Collection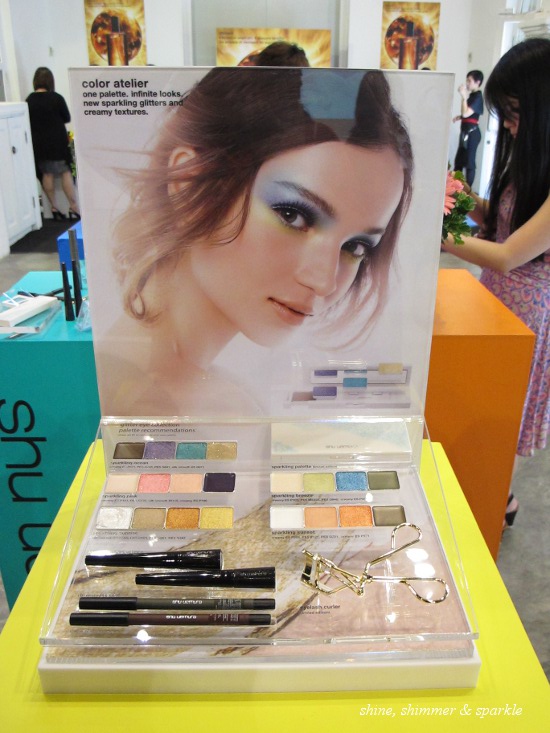 10 shades of colourful Sparkling Glitters and 3 shades of Silk Smooth Eyeshadows (silky silky glitter eyeshadows) have joined the veritable rainbow arsenal that is the Shu Uemura Colour Atelier - I was so so so right to have declared at the initial launch of Colour Atelier that "resistance is futile".
Click HERE, HERE and HERE for swatches and details of the earlier Shu Uemura Colour Atelier Collections
With this many colours and textures to play with, it IS hard to leave the counter without having an eye on an eyeshadow .. or an eyeshadow in your shopping bag. It's even harder when the eyeshadows retail at an affordable SGD$22 a piece.
Take a look at swatches of most of the shades (I missed out G115, G909 and G Pink 135, sorry), you'll know what I mean:
(Swatches are of light-medium intensity, no base and dry)
I must say this - both the new Sparkling Glitters and the Silk Smooth Eyeshadows are very very smooth - I hardly feel any grit or particles when I swatched them. Especially in the case of the Silk Smooth Eyeshadows which have been created with a new "chiffon-soft" feature that allows the glide of long-lasting sparkles which do not flake. All the new glitters catch the light in the most gorgeous way. 
Shu Uemura's Colour Atelier allows you to really get into the heart of the colours and customise your own palette. Here are some of their recommendations, if you are looking for inspiration
As you can see in these palette suggestions, there are also new Creamy Eyeshadows in this collection - opaque cream shades in 2 shade variations - highlights (lighter pastel shades) and definers (deeper shades) - these felt creamy to the touch but from swatches, they felt a little too emollient and creamy. And really, I was super distracted by the glitter eyeshadows.
And and and ... Shu Uemura has also created a beautiful new palette to house these new eyeshadows - I really like the soft aquamarine print emblazoned across the palette.
Specific to this collection are 2 statement looks created by Shu Uemura:
The Sparkling Dramatic Gaze featuring a gorgeous palette of aquamarine, violet and gold
The Shimmering Natural Glance featuring a palette of warm and rich golds, corals and browns
I really like both looks! I fall for anything aquamarine and the rose golds have their way of luring me.
Here are some shots of Shu Uemura Elite Makeup Artist Maz, recreating the Sparkling Dramatic Gaze look:
Apart from the Sparkling Glitter eyeshadow additions, Shu Uemura also has a smattering of other products in the collection - mascara, pencil eyeliner in copper brown and olive, liquid glitter eyeliner in gold and silver and eyebrow mascara in 5 shades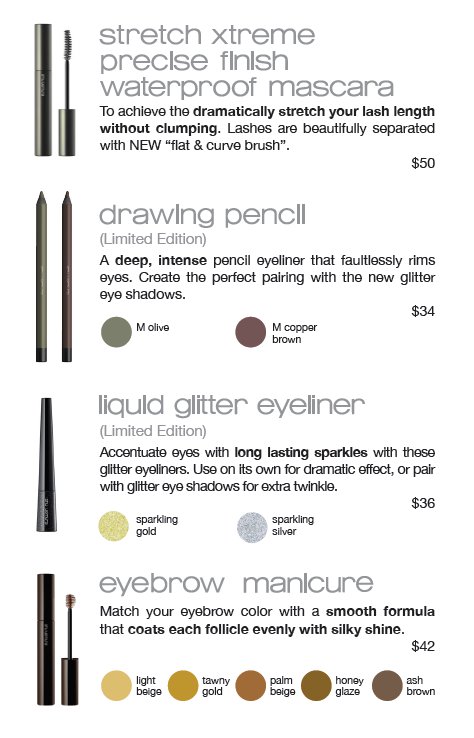 Also in the range - the 24k Gold Eyelash Curler (SGD$32) which is Limited Edition - which I really don't mind picking up :)
**************************************************************
Tempted enough by the new range of eyeshadows and other products? Well I sure was and pounced on the eyeshadows at the first opportunity I got.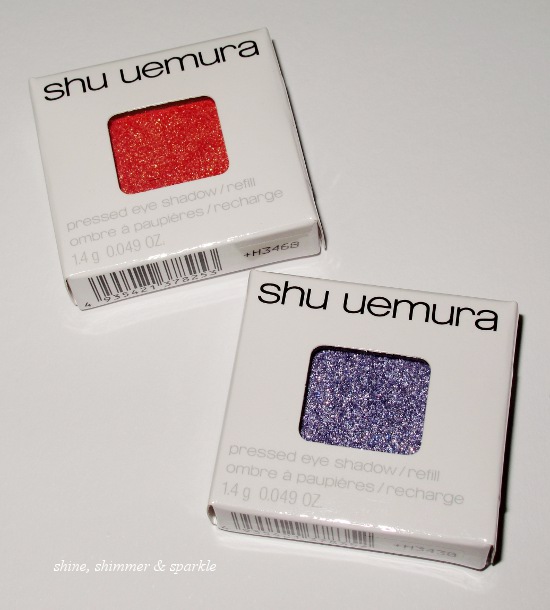 I couldn't resist these 2 - G Purple 745 is such a pretty grape-violet and G Orange 251, rather than being a straight-up orange has the loveliest rose-gold edge to it.
Here is how my Sparkling Palette looks like now - not exactly according to Shu Uemura's recommendations but I LOOOOVE it!
L-R: G 909; G641, G745, G251
I repeat - "Resistance Is Futile" ...
********************************************************************
If you like a little shine, shimmer and sparkle (how perfect!) in your eyeshadow, you must must check these out - they are out on the Shu Uemura counters now.
Beautiful shade selections and lovely sparkles - incorporating them in my routine this week onwards!
Thanks for stopping by and have a great week ahead!
**********************************************************************
Disclaimer: G909, G641 and Sparkling Palette were provided to me for consideration; G745 and G251 were purchased with my own money. I am not affiliated to Shu Uemura. All opinions expressed are my own and have not been influenced by anyone.