Hola!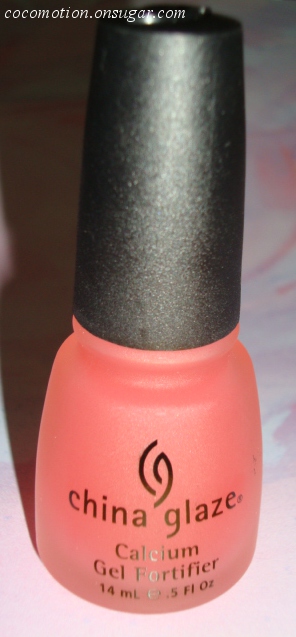 I'm always on the lookout for some kind of nail treatment - my nails are pretty ok but when I grow them out, they seem to be really susceptible to tears and cracks around the edges. This is especially so for my middle and ring fingers. And during exam or deadline-crunch time, I have a tendency to pick at my nails (which just happened *groan*). The nail treatments I've been using mostly are from Ecrinal and OPI Nail Envy - both of which are a little on the pricier side.
When Gwen last had her Transdesign spree, I took the opportunity to order the CHINA GLAZE CALCIUM GEL FORTIFIER. According to the China Glaze website, this is supposed to help thin, weak nails grow long and strong, especially for those who experience weak, splitting nails. It contains Vitamin B3, Panthenol and Calcium (its also 3-Free) and the gel formula forms a protective coating.
The product is packaged and is applied like a regular China Glaze polish. The bottle is frosted and the product itself appears to be a salmon pink shade but the colour doesn't quite show up on the nails.  It is of a good runny consistency and flows on the nail easily - it also dries rather fast.
What I really love about this is that the effect is felt almost immediately - the gel consistency makes the nail feel much stronger, tougher and very smooth to the touch. As the weeks went by, I felt that with regular usage, my nails really felt much stronger - it really kept my nails from tearing at the edges as they grew out.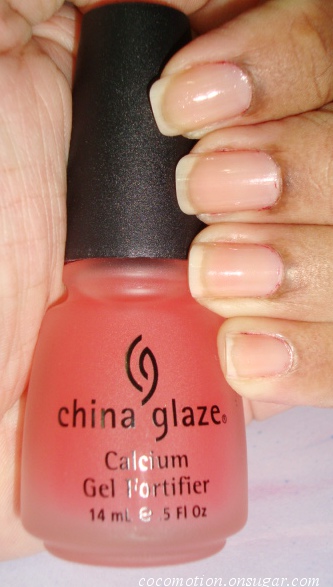 As you can see from the shot above, it applies very smoothly with a nice sheen. I was able to use this as a base coat, underneath polish, and I had no application issues with my regular polish - the gel coating filled out all the minute ridges for a very smooth surface. I did not experience undue chipping, bubbling or any wearability problems with my nail polish with the China Glaze Calcium Gel Fortifier either (my usual basecoat of choice is Nailtek Foundation II).
I really love the China Glaze Calcium Gel Fortifier - I actually prefer it to OPI Nail Envy as I find this easier to apply (I feel it dries a little faster) and its definitely less expensive.
I picked it up from Transdesign.com at about USD$4.45. While scouting around for the ingredients' list, I noticed that D.Y.O.N International has brought several China Glaze Nail Treatments in - this is retailing at SGD$10 from D.Y.O.N International (I saw it on their FB HERE), which really makes life easier and I find the price rather reasonable.
Having had a great experience with this, I'm now keen to try the Nail Strengthener and Growth Formula!
*******************************************************************
Do you use nail treatments on a regular basis?
I hope you found this useful!
Thanks for stopping by and have a great week!
********************************************************************
Disclaimer: I am not affiliated to China Glaze or D.Y.O.N International. All opinions are my own. Product purchased with my own money.