Hello!
Mark 6 Oct 2012 on your pink calendars! Rupini's Beauty Consultant, a chain of salons which specialises in eyebrow threading, is supporting the Breast Cancer Awareness Campaign this year, with their own event, Pulling For A Cause.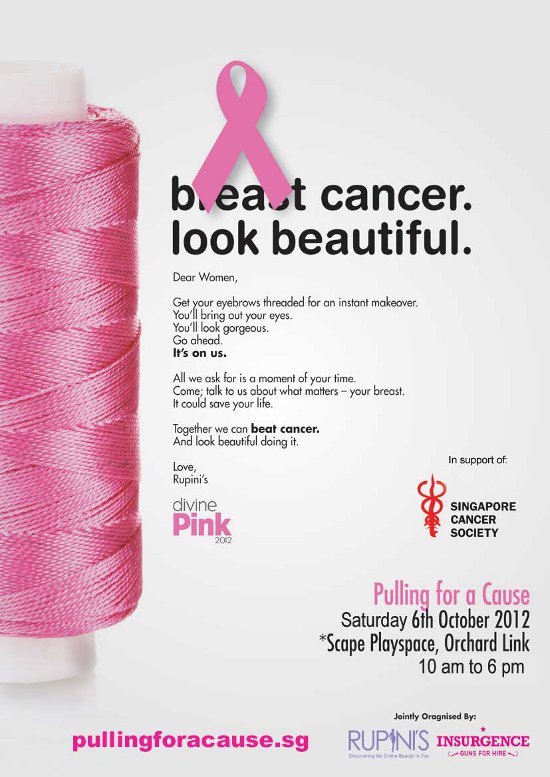 I love the ad featuring the spool of pink thread. It's not just there for aesthetic reasons or because Rupini's does threading. Sivarani, Rupini's proprietor, is herself a Breast Cancer survivor and mentions on Rupini's FB page that "getting their eyebrows threaded again after chemotherapy was a significant moment - it meant hopefully that the worst was over". Click HERE for more details.
Through this event, Rupini's supports the Singapore Cancer Society, to which participants can make a donation of any amount to.
Rupini's also hopes to spread the message about Breast Cancer and how devastating it is to women who are afflicted by it. The  But their message is ultimately a positive one, just like the numerous other campaigns out there - early detection saves lives and together, everyone can beat it.
It's the same message year in and out ... but each year, with an increase in awareness and support, Breast Cancer takes a severe beating and the women come out real champions. 
I hope to pop down and join in the event - I've had my brows threaded at Rupini's several times and I know they do a good job. I hope you will too!
*wonders if they'll use pink thread that day?*
************************************************************************
Disclaimer: I am not affiliated to Rupini's; all opinions expressed are unbiased and my own.