Hola!
I picked up 2 items from the Chanel Bombay Express Collection and instead of packing them away "safely", I've been happily using both the Routes des Indes de Chanel illuminator and have worn Chanel Diwali.
I knew from the get-go that Chanel Diwali will be a wee bit similar to something I had in my stash. But I wanted it anyway.
One, it is a collection that somewhat pays homage to Indian heritage in a classy, chic way - the luxury of gold, silver, rich tapestrie. Second, it's name - Diwali! I celebrate Diwali (or Deepavali as it's more commonly known here).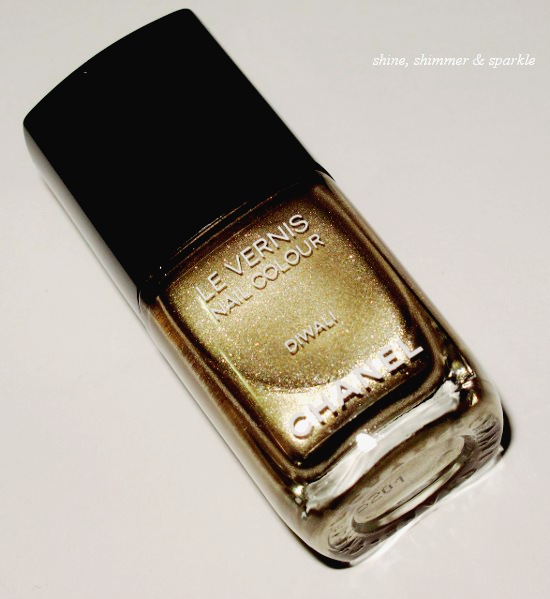 More than the frou-frou reasons for wanting it, I really like the application and finish of Chanel foil polishes. Graphite from the previous Fall collection is gorgeous and I've worn it many times - my Mom always asks me what polish that is! And most recently, I managed to psychobabble Shirleen into getting Graphite also - and from what I understand, she loves it too (she was actually looking at a coral ... ooops!). More recently, I picked up Delight - another pale rosy copper shade which is another striking beauty.
So with Diwali in that same foil texture, I knew I would love it. And I so do.
Diwali is a pale gold foil with threads of silver running through it - you can't quite tell where the gold starts and where the silver ends. It's beautiful enmeshing of both the luxe metals that makes this so special. 
As a bonus, the polish has a generous scattering of tiny silver particles - they are not immediately visible but they do catch the light, giving the polish a little more dimension
Diwali is not overly warm or cool and I think it's a gold that perhaps many can pull of. To be honest, I was a little hesitant to wear it on my short nails (which are currently totally short .. sad) but I think it worked.
The polish is smooth and has a good dry time - it seemed to dry a little faster than some other polishes I own. The swatches you see are with basecoat, 2 coats of polish and 1 coat of Seche Vite.
*************************************************************
Here are the polishes I'm comparing Diwali with - these are the closest I have in my stash. I realise now that I should have added Chanel Gold Fingers in the mix - but that is a totally different gold - sort of 24KT yellow and much much sheerer.
Before I get into the shade nuances of the comparison swatches, I'd just like to point something out. Other reviews have mentioned that Diwali has the tendency to show brush-strokes. I agree - it does show a little bit of brush-strokes if you paint it fast and a little "roughly" as can be seen on the middle swatch of the nail wheel. However, when you paint it with slower, steadier strokes, like I did with my nails in the shots above and the nailwheel swatch of Diwali on the right of the picture, brush strokes are hardly visible. 
Chanel Delight is a total non-contender although it has the same foil finish and tiny micro-sparkles just like Diwali. 
China Glaze Midnight Kiss (Holiday 2010) is another pale gold foil - I thought it was the lightest gold foil I owned but beside Chanel Diwali, it actually is a tad deeper and warmer. Midnight Kiss is a great polish and if you like Chanel Diwali and refuse to spring for it or it's not available, China Glaze Midnight Kiss would be a great alternative (provided you can find it!) 
Deborah Lippmann Believe (reviewed HERE) is the lightest of the lot - DL describes it as a shimmering gold beige with a metallic finish. In comparison to the others, Believe is the coolest in hue and reminds me of a lustrous pearl.
Joey also succumbed to the beauty of Chanel Diwali; click HERE for Joey's thoughts and her comparison swatches
*****************************************************************************
Despite the closeness in shade to China Glaze Midnight Kiss, I have zero regrets picking Chanel Diwali up. I love the finish and the colour and I really appreciate how 2 coats gets me full opacity. 
I think like Chanel Delight, Chanel Diwali will be one of my no-brainer colours - you know on days where you just stand there staring at the legion of nail polish in the drawer and don't feel like anything? I think that's where Chanel Diwali will rise to the occassion.
This year's manicure for Diwali, the Festival of Lights, has already been decided upon
**************************************************
Thanks for stopping by and have a good weekend ahead!
***************************************************
Disclaimer: All products featured were purchased with my own money.