Hi!
I'm very much in love with my new acrylic paints! I managed to stain the other polka dot manicure so I decided to do another polka dot design. I remember seeing similar ones on Pinterest and on Google Images - incredibly easy to do. Just dot away to your heart's content :)
For the base, I used Revlon Colorstay Longwear Nail Enamel in Midnight - a very deep teal-blue that dries down a tad more green. For the dotty bit, I used a mix of acrylic colours - yellow, white, mint, green, pink, and lilac. 
The good thing about using the Revlon Colorstay polish is that it tends to dry pretty fast - a little faster than regular polish, I feel. So I can start dotting pretty soon after applying the base colour.
The only drawback is that I feel it it a little thick and depending on how you wield the brush and how much you wipe off the stem, it can pool on the sides and around the cuticles. Both the slight thickness and the seemingly quick-dry formula means that I need to paint my nails quickly - in a place with not much wind (I switched off the fan!) to avoid streaks and bald patches.
I did the dots randomly - I overlapped them and just dotted away. I did all the white dots on all 10 nails, and then the yellow on all 10 ... and I was done in less than 10 minutes. Seal everything with topcoat and done!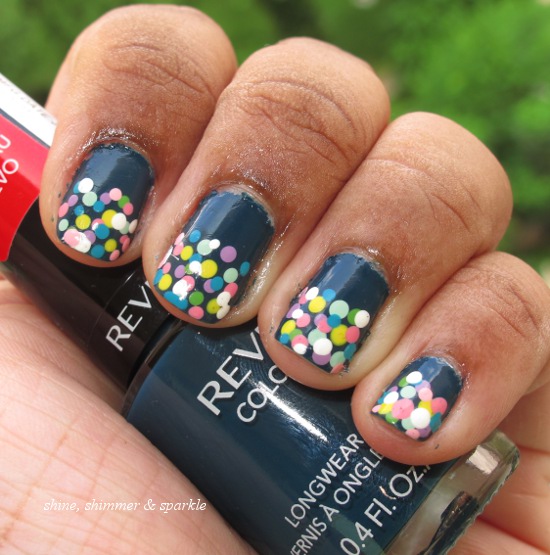 And here is one shot without flash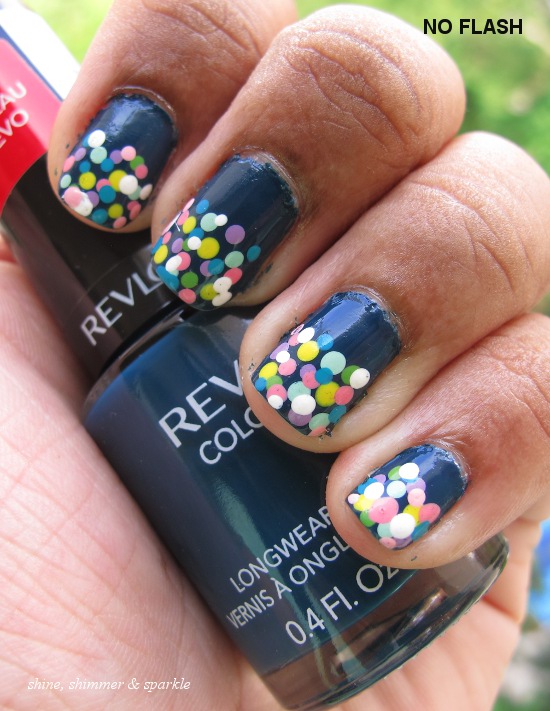 I like how the dots have a nice crispness about them - when they dry, they look a little dull and matte but the Seche Vite topcoat makes it all nice and shiny!
I think a similar idea would look divine on a nude base too!
****************************************************************
I'm dotty about polka dot nails ... I'll probably do polka dot manicures for a while before the obsession dies down!
Thanks for stopping by and have a great day ahead!
*****************************************************************
Disclaimer: All products featured were purchased with my own money