Hellooooo!
Dada dada dada dada dada dada circus ... dada dada dada dada afro circus afro circus polka dot polka dot polka dot afro!
And Marty's iconic appearance and dance is the inspiration behind this manicure ...
I love polka dots .. LOVE. But I've complained a few times here, how I have trouble trying to get a decent looking polka dot manicure - I can't control the combination of the dotting too and nail polish as evenly as I would like to. I've done other polka dot manicures HERE and HERE but I think today's is my favourite - love the colours!
I used A-England's Morgan Le Fay, a shimmery white, as my base. It is a little sheer - I used 2 coats and I can see a bit of nail line. It looks great as a topper over silver too. If you look real close, you can see bits of pink and silver micro-shimmer in it.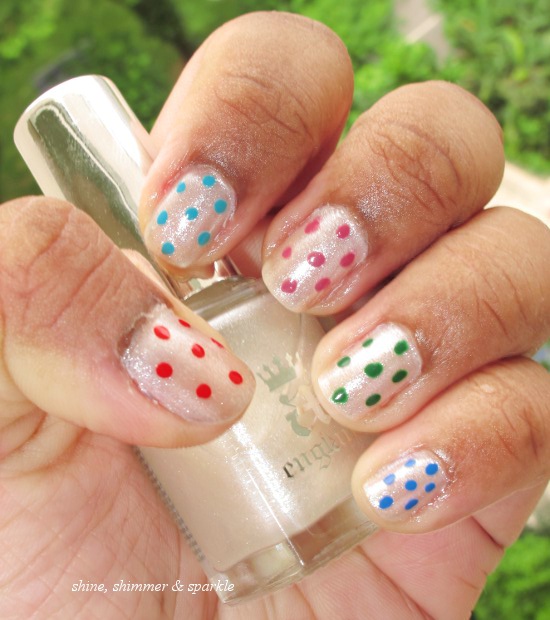 Thumb - Red
Index - Turquoise (it unfortunately looks rather blue here)
Middle - Deep Mauve
Ring - Leaf Green
Pinky - Cobalt Blue
Some of the dots aren't the most even but that comes with practice - I managed to dot both my left and right hands pretty decently. The problem with the dotting tool and nail polish is that I tend to get a bubble of polish as my dot - the bubble is full of polish and then when it eventually dries, I get a misshapen blob or worse, a smear.
In this manicure, I indicated the colours I used as just Red, Cobalt Blue because these aren't nail polish - they are actually acrylic paints.
When I joined Kim and the girls for the manicure fair in Kim's kindergarten over the weekend, we noticed she used these pots of acrylic paints to create polka dot manicures. She explained that these dry fast and don't give you the trouble of bubbles (they apply and dry flat). 
The best part is that when applied on dry polish, you can just wipe acrylic paint (either with tissue or a wet cotton pad) and it comes right off - no mess or smears.
These were so much more easy to use than nail polish with the dotting tool - even the dotting too handle stays cleaner because I can just easily dip the tip into the little pot.
I picked these up for SGD$9.95 at Art Friend - they have a couple of brands and the one I picked comes in sets of 8, 16 or 2. Prices start around SGD$5-6 - the set of 24 is really worth the money because there are so many great colours. 
Now I can dot my nails to my heart's content ... maybe I should try sponging manicures with these too ....
And I leave you with Marty's frenzy ... really one of my favourite moments in the movie!
Thanks for stopping by and have a great day!
***************************************************************
Disclaimer: All products featured purchased with my own money