Ello!
This week, RMK will be holding a couple of live Hands-On Makeup Classes as part of their 15th Anniversary Celebrations.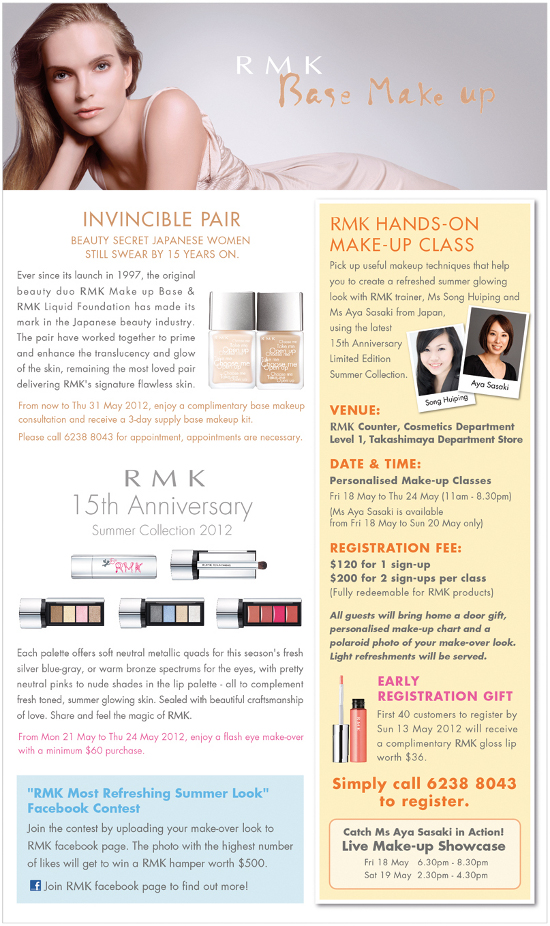 Together with RMK's national Trainer, Song Huiping, RMK Makeup Artist Aya Sasaki from Japan will helm the classes - the spotlight will be on the 15th Anniversary Makeup collection.
The makeup classes will be from 18 - 24 May 2012, 11am to 830pm at Takashimaya itself.
There is a registration fee but this is FULLY redeemable for RMK products - essentially, the class is a bonus! :) In addition to this, there are door gifts, a face chart of your personal look as well as a polaroid photo of your look created during the class. The details are as follows:
1 person - SGD$120
2 people - SGD$200 (a savings of SGD$40)
If you're still thinking of something to do with your Mom since the Mother's Day vibe is still in the air, this might be a perfect girls-day-out activity to indulge in. I recently attended a Lancome event with my Mom and we had fun so I know this works! :)
If you'd like to sign-up for the classes, please call 62388043 to register.
Here are some shots of the previous RMK class I attended last year, with Kosuke Wada, RMK's makeup artist from Japan - lot's of useful and different tips to be learnt!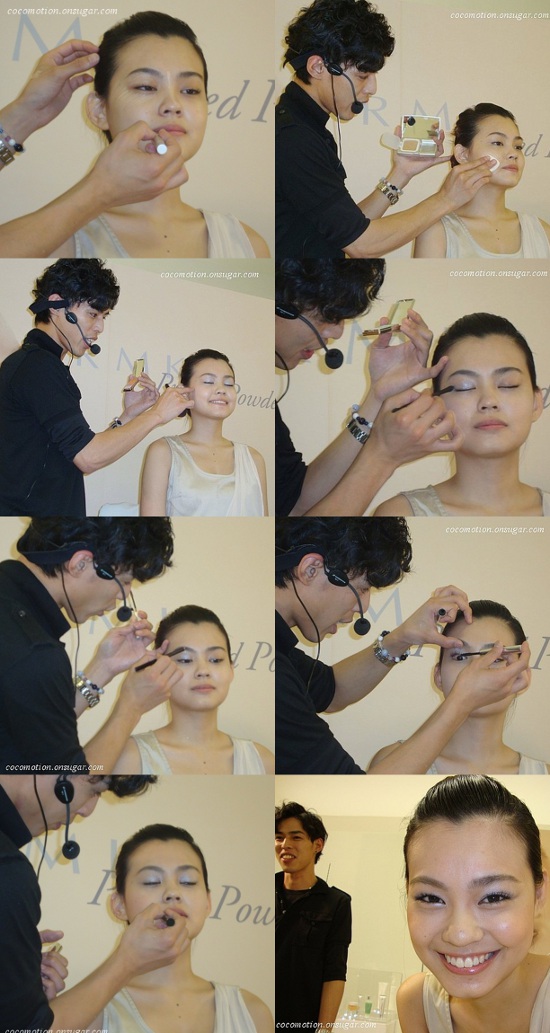 Somehow, there is a problem with hyperlinking in OnSugar, so here is the URL for the entry I wrote on that makeup class for your reference
http://cocomotion.onsugar.com/-ACTION-RMK-STEP--STEP-SKINCARE-MAKEUP-WORKSHOP-MR-KOSUKE-WADA-PIC-INTENSIVE-16903942

***********************************************************************
Hope you find this useful! Enjoy the week ahead!
***********************************************************************