Hi hi!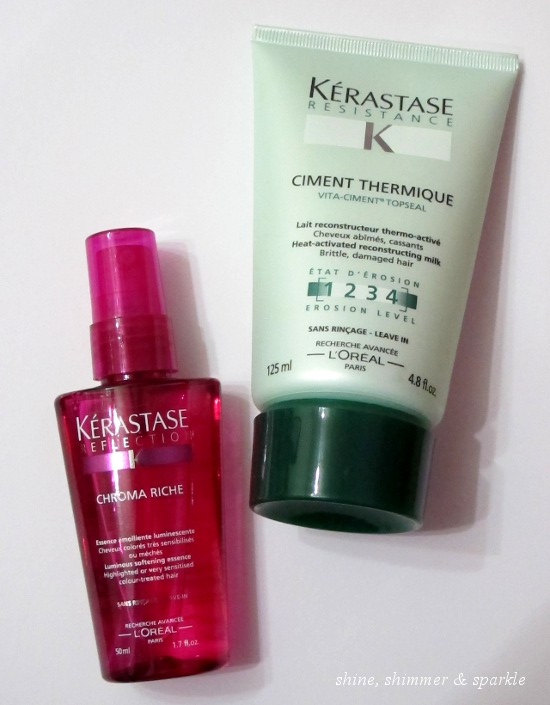 I just had my hair coloured at the salon with my chums yesterday. I usually DIY my hair colour at home - I like Revlon Color Silk and the new Schwarzkopf cream hair colour but once in a while, I like to get it done at a salon. The DIY ones don't last as long but I find it's easier on both the pocket and the hair - I find that my hair feels much dryer and sometimes, a little stringy, when I get colour it at the salon. 
I just realised I've totally run out of shampoo for coloured hair so I need to get some. In the meantime, here are 2 products I like to use for a little TLC for freshly coloured hair.
I've used a couple of ranges from Kerastase - discovered them when I started working and back then, the Oleo Curl range was my favourite. Now, with whites sprouting at my temples - just at the temples in the most dignified way - I tend to colour my hair more often, which means, I prefer a more restorative, reconstructing treatment.
Here is a snapshot of the different ranges of hair products available from Kerastase:
The thing about Kerastase is that their ranges seem more nuanced than others - it recognises that there are various degrees of damage and varying hair concerns.
Say under Coloured Hair, instead of just a range for Coloured hair, it's split into 2 for "Normal Colour Treated" and Dry Highlighted/Colour Treated. The screengrab below shows you the total nuanced range of products for all hair types. 
Kerastase practices a 3-step system - Cleanse, Treat and Protect - each range has a couple of products for each step.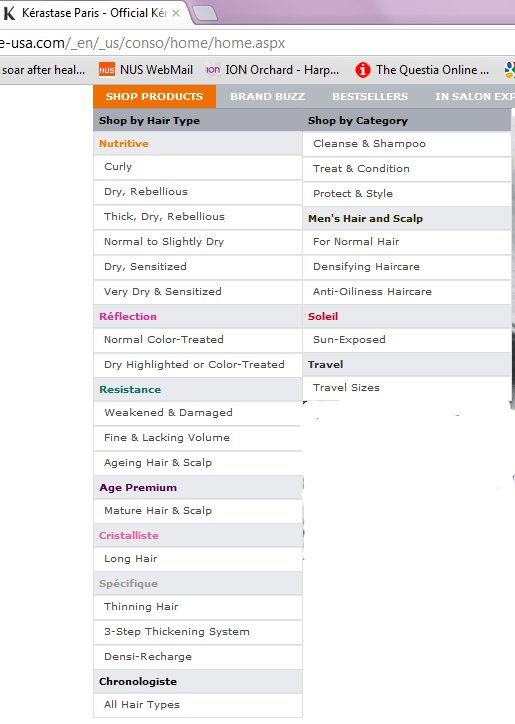 Both products I'm featuring are leave-in products.
Let's look at the Chroma Riche Luminous Softening Essence first.
The Chroma Riche essence falls under the Dry Highlighted / Colour Treated range and is under the Protect step. The leave in essence has a thin, runny, emollient texture and I find that just one or 2 pumps is more than sufficient. It can be used both on wet and dry hair - on wet hair, it acts as a detangler while on dry hair, it maximises radiance and shine. In both cases, the ingredients form a hydrophobic film around the hair shaft to protect and seal in moisture. Vitamin E and a UV filter also protect the colour itself, helping to prevent fading.
For me, the Chroma Riche essence helps protect colour and infuses the hair with Vitamins to make it look more healthy. I tend to reach for this in the immediate period of colouring my hair though - the floral, mild fruity scent is nice but I find that it is a little too emollient for my hair and makes it too sleek - I am not crazy about the sleek straight hair look on myself. But to protect colour in the initial stages, this seems to work great - I've noticed hair colour tends to last longer when I remember to use this.
*********************************************************************
The Kerastase range for coloured hair also has a leave in protecting milk but I feel that concentrates more on protecting hair colour and making it look sleek and shiny. Post-colouring, I feel that the chemicals weaken the hair a little and I prefer using a reconstructive, restorative leave-in product instead.
For this, I like Ciment Thermique Heat Activated Reconstructing Milk
The Ciment Thermique is meant for hair that is weakened and damaged. It is a thermo-active product which is great for me because I use a hair dryer on my hair - I usually wrap my hair in a towel while doing my makeup and when it's mostly just damp, I run the hair dryer over it to dry most areas (air-drying just doesn't work on me). 
According to Kerastase, hair that is weakened and damaged suffers from a loss of inter-cellular cement - the lack of this cement causes hair to break easily. Ciment Thermique revitalises the inter-cellular cement INSIDE the hair fibre through the Complexe Vita Ciment, while the Vita Top Seal creates a aggression shielding topcoat to protect the hair from external aggressions. 
The milk has a soft, fresh lemony scent which goes away once hair is dry. I like Ciment Thermique because it makes hair feel soft and smooth. I use about a 20 cent coin worth for my hair, applying it mostly at the lower half of the hair. I really see less hair breakage with regular usage of Ciment Thermique - I've experimented and gone for one to 2 months without using this and then back on this again and repeated the cycle. Admittedly, sleeping habits, health (my hair drops when I get the flu), the food we eat, weather all have a part to play in our hair health. However, I have noticed a difference with Ciment Thermique so I'll continue to use this. I am religious with this even more when my hair is freshly coloured - poor hair reeling from the coloured chemical assault really needs this!
I can't quite remember how much the treatments cost - I remember the Kerastase folks saying that all treatment products cost the same - SGD$50? I need to check and will update this entry.
In the meantime, I'd love to know what you use for rescuing your hair? Share!
********************************************************************************
Thanks for stopping by and have a great week!
*********************************************************************************
Disclaimer: Products featured were provided to me for consideration