Hello :)
Roses have always been a weakness - I think they are one of the most beautiful flowers ever, not just because of the age-old association with romance and love. The soft velvety petals ... the myriad of beautiful colours they come in ... the many many uses in fragrances and beauty products ...
Pink roses are gorgeous but the ones that always make me weak in the knees are this crimson variety - the petals often have that plush velvet look to them that make them look regal.
The rose has made a huge comeback this year - there are more beauty brands including the beautiful rose in their products and fragrances. Skincare brands love the rose for it's restorative, hydrating and balancing properties and are often used in anti-ageing and hydrating products. The scent of the rose is also said to have a calming, positive effect on the user - any positive association is a natural boost to the complexion. 
The New York Times recently ran an article pointing out how the it is now the year of the Rose and how it has made a comeback in the worlds of the apothecary, beauty, fragrance and even fashion. Larry Yeo had posted a link to the article on Facebook which I read with great interest, seeing how I personally love using rose-oriented products. You can read the NY Times article HERE.
Here is my personal Ode to the Rose - the beauty and fragrance products I'm featuring in this entry are some of the rose products I reach for very often.
Starting off with Lush Turkish Delight ...
Made with a base of rose water, infused with rose oil and rose absolute, this creamy whipped body polish is a dream to use. It's like an in-shower moisturiser - after I've soaped up and rinsed off, I scoop a little of this and apply to my wet skin and massage it in. Once I've rinsed off with cool water, skin is super soft and smooth and gently scented with a powdery rose fragrance.
***********************************************************************
When I first started off with a proper skincare (use of masques, weekly treatments, etc) when I was about 16, 17 years old, I was too scared to use anything from mass brands - I stuck with herbal, ayurvedic and DIY products only. Even my first proper introduction to the world of non-Indian or ayurvedic skincare was to Clarins - that too, because it was mostly plant-based. Ayurvedic or Indian herbal skincare often masks and scrubs that come in powdered or grain form and they will require a mixing medium to make a paste - for that, they always recommend using Rosewater. Rosewater is also recommended as a toner.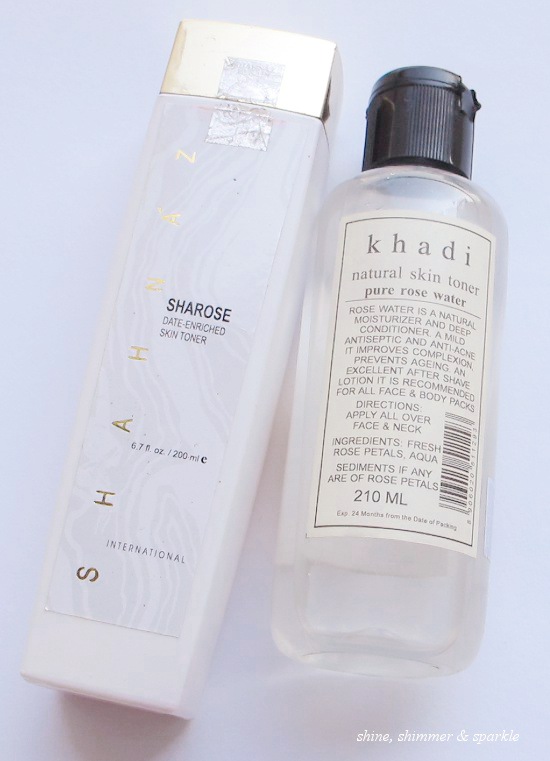 Rosewater as a toner has a cooling, soothing property - it instantly refreshes tired skin and makes it feel very comfortable. Rosewater is said to clear skin of excess sebum and is considered to also keep acne at bay.
The Khadi Pure Rosewater (right) was a gift from my chum Joey (who also gifted me a Neem / Margosa powder face pack to use with the rosewater).  The ShaRose toner (left) is from a very famous Indian Ayurvedic skincare and cosmetic brand, Shahnaz Husain and is further enriched with dates. 
***************************************************************************
And finally, one of the fragrances I've been reaching for on a regular basis - Jo Malone's Red Roses.
To be honest, it was Penhaligon's Peoneve (reviewed HERE) that made me crave a pure rose scent on my skin - Penhaligon's Peoneve is a spritelier, spicier version of a rose fragrance and I was reminded by how much I loved rose and craved the traditional old-fashioned rose scent.
When I initially bought Jo Malone's Red Roses, it was with the sole intention of layering it with Jo Malone's Vintage Gardenia. On its own, I found Red Roses a little overwhelming and the violet leaf and lemon accords at the top notes wasn't quite what I was looking for. When I finally overcame my bias and used it on its own, I was blown away by the beauty of it - the green and citrus accords dissipate in no time, the pure rose heart unfolds like a rose blooming in fast-forward motion similar to what you see in nature documentaries. I love the YouTube clip below!
***************************************************************************************
My latest rose crush? This gorgeous Rose candle from Diptyque - the whole of Escentials at Paragon was enveloped with this gorgeous scent and it just filled me with happy thoughts. I really want to get one of these soon ... Edit: Just found out it's SGD$102!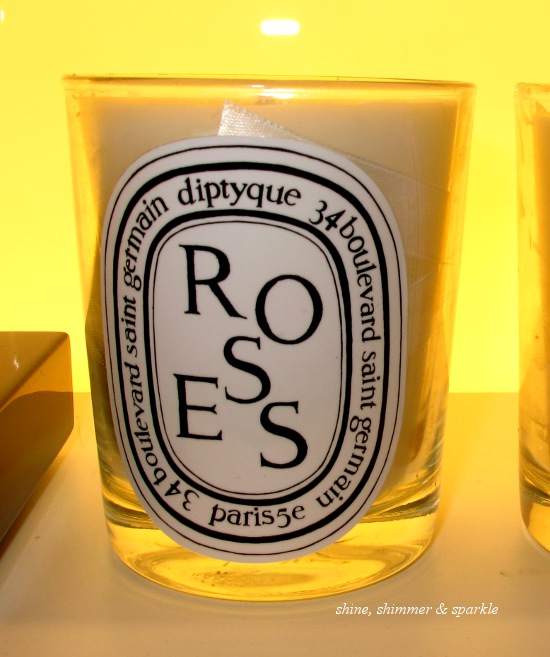 **************************************************************************
Here are reviews and mentions of some other rose-based beauty products I've featured on the blog so far:
Badger Balm Rose Geranium Soap Bar - HERE
Penhaligon's Peoneve - HERE
Penhaligon's Elizabethan Rose Shower Gel - HERE
Jurlique Rose Moisture Plus Skincare Collection - HERE
Lush Imogen Rose Solid Perfume - HERE
Shu Uemura Depsea Water in Rose - HERE
***********************************************************
Thanks for stopping by and have a great day ahead :)
*************************************************************
Disclaimer: All products featured were purchased with my own money unless otherwise stated. All opinions are unbiased and my own. I am not affiliated with any of the brands mentioned.