Hi!
Just when Spring whizzed by and Summer popped up everywhere, the Fall and Autumn Winter Collections are waiting in the wings, ready to descend upon us. 
Shu Uemura's Autumn-Winter Collection goes all sugary-sweet on us - the chocolate-themed collection hopes to replicate the same emotions that chocolate lovers associate with chocolate - "passion, love and delight".
The Chocolat-Donna look is inspired by the sense of reward and satisfaction one might get from eating chocolates - the feeling of happiness, contentment and that sugar-high. Here is what Shu Uemura International Artistic Director Uuchide-San says about the Chocolat-Donna Collection: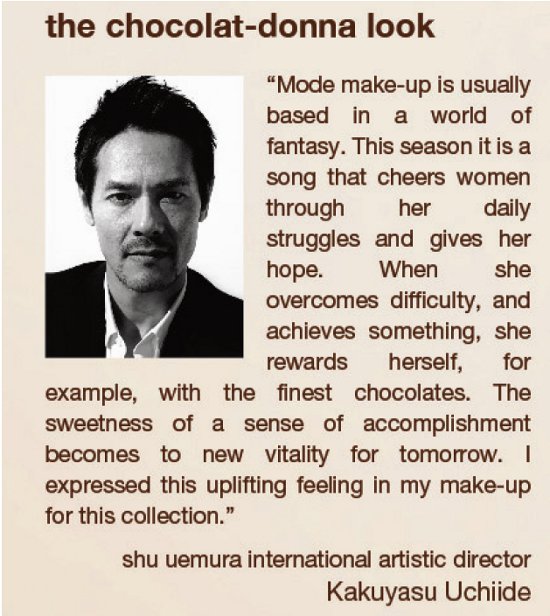 ****************************************************
The star of the collection are the 3 Limited Edition Eyeshadow Palettes (SGD$110 each) - filled with 6 pre-set shades, each inspired by a box of luxurious chocolates. The shades are inspired by flavours often paired with chocolate - ginger, mocha, vanilla, pistachio, mint and raspberry.
Here are Shu Uemura's recommendations for complete looks using the eyeshadow palettes
I love how the palettes look - the gold accents on the eyeshadows as well as the accents on the Prima Palette (the casing) really look appealing. I do wish that the eyeshadows were sold separately though - I'd like to make my own box of chocolates :)
In the collection is also a Limited Edition pair of brown feather eyelashes, accented with gold and silver - now, THIS I would like ... 
And to complete the looks, chocolate-inspired shades for lips and cheeks .... 
10 shades of Rouge Unlimited Supreme Matte (SGD$39 each)
And a Limited Edition raspberry shade of Glow On Blush (SGD$33)
************************************************************************
The recent Shu Uemura collections have been an absolute delight - I have accumulated yet another palette of 4 eyeshadows and have not even featured them here and already, there are new shades coming out! If you like pairing pretty pastels with matte browns - which Shu Uemura points out is on-trend right now - then do be sure to check out the Chocolat-Donna Collection when it rolls out in Aug 2012.
*************************************************************************
Disclaimer: Images featured have been extracted from press information furnished by the PR company / brand. All opinions are my own and have not been influenced by anyone.