Hi hi!
As I mentioned in the last entry, at the Clio/Skin 79 demonstration, Larry Yeo shared a great tip to creating winged or cat eye eyeliner. The inspiration was taken from the dramatic cat eye looks the ambassadors of Clio Gelpresso eyeliners sport in the promotional images
I LOVE winged eyeliner - I've been wearing my eyeliner like this since I-can't-even-remember-when. The problem I have with winged eyeliner is that it come sometimes be unbalanced - somedays, I get ultra frustrated when after I've done everything, I realise, "Heyyyyy, the right eye has a higher stronger wing than the left!!!" Also, the more dramatic wing or cat eyes can sometimes be harder to balance.
So here are Larry's very useful tips in creating that dramatic wing or cat eye eyeliner. I'm incorporating his tips together with my attempt (I tried to take step-by-step shots as best I could; hope they are useful!)
First, following the eye shape and using the waterline as a guide, Larry drew a small flick upwards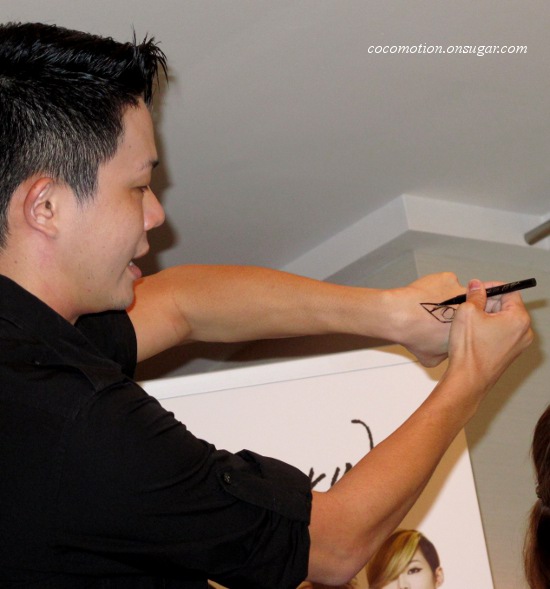 Then, from the highest point of the flick, he drew it back downwards towards the upper lashline to create a triangle. You can then fill in the triangle.
The Cat Eye Eyeliner Mantra is "Bottom, Up, Downwards" :P
Let's see how I tried to replicate it - I used my Dollywink Liquid Eyeliner for this since it has a sharp and fine point. In my case, the empty triangle is not as obvious as how it is drawn on Larry's hand but I hope you can see the broadening triangle.

First, start off drawing the upper lashlines - you will notice I have already lined my lower lash line as well - that is to serve as a guide for me in the next step. For the cat eye to be more obvious, the eyeliner at the innermost corner of the eye (near the tear duct) needs to be a little thinner which will enhance the whole look overall.
Next, using your lower lashline or waterline as a guide, draw a thin upward flick
This forms the base of the "triangle". Actually, for some, this wing is enough and you can technically stop at this step if you wish - a small wing.
But for a more dramatic version, continue with the next step. Using your iris as a guide, locate the point just about your iris on your upper lashline.
Now, from the tip of that wing you created, draw inwards and downwards towards that spot you identified in the previous step and fill it in. In my case, I could angle the eyeliner brush a little flatter so it created a thicker line, filling it in automatically.
And the final look would look something like this:
On my waterline, I used Clio Gelpresso in Chic Navy - it's actually pretty long lasting!
And here is the complete look
Ok, silly expression because I wanted to show the eyeliner :P
Eyeshadows: L'Oreal Infaillibles Flashback Silver and Black Onyx
Eyeliner: Dollywink Liquid Eyeliner; Clio Gelpresson Chic Navy
Mascara: Heroine Make Volume and Curl Mascara
Cheeks: MAC Powder Blush Fleur Power; Guerlain Cruel Gardenia
Lips: Maybelline Colour Sensational Crazy For Coffee; Chanel Glossimer 131
**************************************************************
Thanks again to Larry for the tips! I think it will also get better and less stressful with practice so cat-eye away everyone!
Thanks for stopping by and hope you found this useful!
***************************************************************