Hi!
I'm still struggling with work but here's a quick nugget of info I'd like to share with you.
The Body Shop supports several causes and has launched a couple of campaigns over the years - Stop Domestic Violence, Stop Human Trafficking are notable campaigns in addition to it's committment to cruelty-free beauty and Community Fair Trade.
This year, The Body Shop Foundation has launched a campaign with a twist - you, the consumer, gets to choose where the proceeds are channelled to.
There are 2 charities that have been handpicked by The Body Shop - ACRES and the Tan Tock Seng Patient Care Centre (PCC).
ACRES is a Singapore-based internationally-registered NGO which promotes animal welfare - a cause close to The Body Shop's heart. It has 6 core focus ares: Wildlife Rescue and Rehabilitation, Tackling The Wildlife Trade, Addressing Zoo Animal Welfare, Humane Education, Community Outreach and Promoting Cruelty-Free Living. The funds channelled to ACRES will be used for Education Programmes by ACRES as well as to support rescue and sanctuary efforts by ACRES. The 2 causes ACRES is representing under the auspices of The Body Shop Foundation is AGAINST ANIMAL TESTING and PROTECTION OF THE PLANET.
Tan Tock Seng's Patient Care Centre is a community-based hospital project that was first established in 1997 to provide support and programmes for patients afflicted with HIV/AIDS. The progammes conducted by the PCC help patients by providing peer support and interaction with volunteers and healthcare workers, which is critical in helping them gain self-confidence and self-esteem. The cause that PCC is representing under the auspices of The Body Shop Foundation is ACTIVATE SELF-ESTEEM.
How can you play a part? Purchase a Dragon Fruit Lip Butter and choose which cause, represented by ACRES and Tan Tock Seng PCC, you would like the proceeds of your purchase to be channelled to.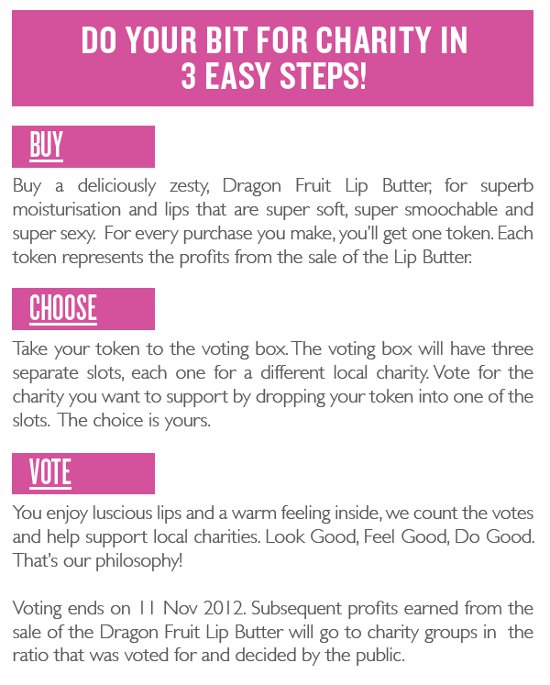 From 1 Oct 2012, 100% of the proceeds from the sale of the Dragon Fruit Lip Butter will go to charitable causes. Specifically, 80% of the proceeds will be divided among the 3 causes represented by ACRES and Tan Tock Seng's PCC, while the remaining 20% will be channelled to The Body Shop Foundation's Global Grants Scheme. 
*********************************************************************
We always talk about "giving back to society" but sometimes we struggle a little, trying to find a great way to do so. The Body Shop Foundation's charitable drive is a great way to get in on the act. 
Thanks for stopping by always; have a lovely week ahead. Fragrance and makeup reviews will be up soon! :)
*********************************************************************
Disclaimer: I am not affiliated to The Body Shop. All opinions expressed are unbiased and my own.