Hello!
I've been using the recently launched Guerlain Shine Automatique in #263 A La Parisienne for a little while and I wanted to share with you my thoughts on it. 
The idea behind Shine Automatique is bold colour that is sheer - a little of a contradiction yes? But that is exactly what Guerlain wanted to achieve - the idea of vibrant, joyful hues in a crystalline, sparkling formula for a luminous, brilliant pout.
And Guerlain wants this bouquet of luminous kisses to be loved by everyone - Shine Automatique is available in a 4 different shade families of Red, Orange, Pink, and Beige - a shade for every season, time of the day and mood.
Let's look at some random swatches of the shades available
See the way it catches and reflects light? I love the reds - I think these glossy, crystalline reds are a great way to wear a red without feeling the full on force of a red lipstick which can sometimes feel intimidating. 
I like the packaging - a sleek gold tube which you can open and close with just one finger.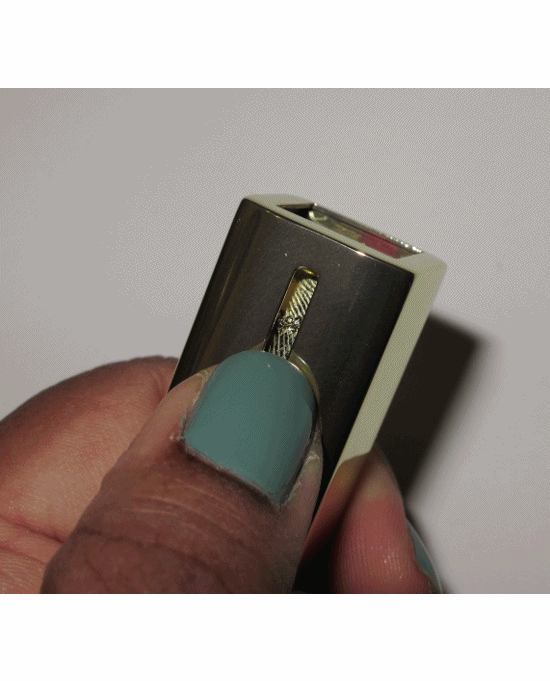 I know - the swatches above look a tad sheer for a lipstick that looks so bright in the tube so I too was wondering how it would look on my lips. My upper lip is slightly more pigmented than my lower lip so very sheer lipsticks need more work on me.
Eyes: GA ETK in Obsidian Black & Madre Perla
Cheeks: MAC Fleur Power & Guerlain Cruel Gardenia
I'm using A La Parisienne (#263) which is the iconic shade in the range - it is a warm pink that borders on red although it looks scarily fuchsia in the tube. 
I'm using it on its own, only having lined the outer rim of my lips, like I do with the rest of my lipsticks. It covers the deeper pigmentation on the upper lip well, as well as the freckle on my lower left lip. So I totally get Guerlain's point of having colour as well as that crystalline sheerness - which is a refreshing change from the much thicker, opaque lipsticks I always reach for.
Here's what I like about the lipstick:
It has adequate pigmentation to cover my natural lip shade evenly
It applies smoothly without any grit despite it having micro-sparkles
It feels really soft on lips - it doesn't cake or feel like a layer
The colour can be layered on for greater intensity
It doubles up as a glossy topper over other lipsticks
It has the crystalline shine of gloss but it is NOT STICKY at all
I love the one-finger operational packaging - works fab in restrooms where there's no place to put your bag down and fumble with everything
It has a classic "lipstick" scent but it doesn't bother me and goes away after a while
Maybe this isn't even a point of contention - it lasted through a meal for me. But ALL my lipsticks last through meals for me - which irritates my Mom and Amy especially, to no end. I often don't really have to reaply lipstick after a meal - think it's just the way I eat. Well, unless its burgers :P
One thing I must add - because of the high level of shine and micro-sparkles, you MUST exfoliate and moisturise your lips before wearing the lipstick - the glimmer will highlight chapped and flaky skin which isn't what we want.
The only one thing that isn't so friendly is the price - it retails at SGD$51, and is slightly more expensive than Chanel and Dior but Guerlain is unapologetically luxurious and a treat. 
I'm really eyeing the red - I think it was #220 that I liked - but I swore that I will finish at least 3/4 of some other lipstick in my stash before I think of buying another so #220 (or is it #221? Now I'm not sure) will have to wait. Perhaps as a Diwali or Christmas present for myself? :P
******************************************************
Thanks for stopping by and hope you found the review useful
******************************************************
Disclaimer: Product featured was sent to me for consideration. I am not affiliated to Guerlain and all opinions are my own and have not been influenced by anyone.