In this entry, I'd like to share my thoughts on the Filorga Cleansing Foam (SGD$41) and a quick look at some of their best-selling products.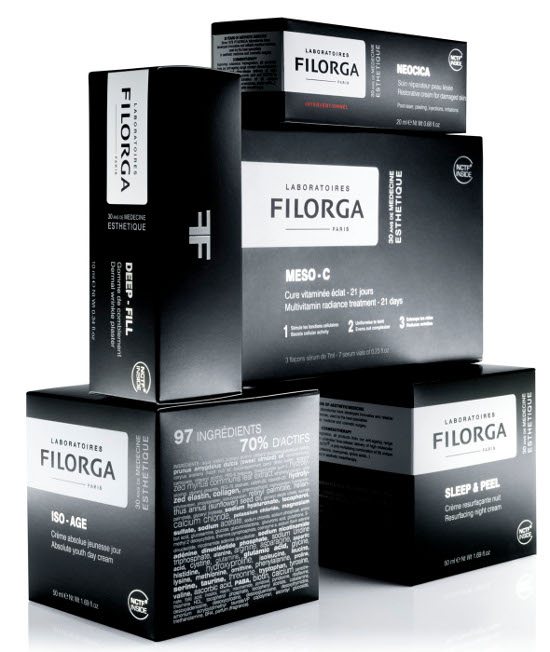 Before I get into the review proper, let's just take a quick look at Filorga's background. The French brand takes its cue from aethetic medicine to fight skin problems associated with ageing - wrinkles, firmess and brightness of the skin. The term "Medi-Cosmetique" which is used prominently to describe the brand refers to Filorga's technology which marries the efficiency of aesthetic medicine with the convenience of cosmetic products.
Currently, Laboratoires Filorga are recognised as experts in the field of cutaneous ageing and is renowned by dermatologists, aesthetic doctors and plastic surgeons in over 54 countries. In 2006, it also received the ISO13485 seal of approval - this certifies that Laboratoires Filorga complies with the standards governing the manufacture of medical devices.
The Filorga range of products commonly feature 2 main ingredients:
Hyaluronic Acid (with high molecular weight) - this is the same grade that is used in mesotherapy and is known to supply exceptional and long-lasting hydrating, healing and repairing properties in addition to a re-plumping effect.
NCTF - a cocktail of 53 components consisting of 14 vitamins, 21 amino acids, 6 coenzymes, 5 nucleic acids, 4 minerals and 2 anti-oxidants to accurately target and treat cells (stimulate vital function of cells, stimulate elastin and collagen construction, overcome skin deficiencies, etc)
*******************************************************************************************

Let's take a look at the Filorga Foam Cleanser (SGD$41) first.

The clear plastic bottle holds 150ml of clear cleansing fluid which dispenses through a pump nozzle.

The packaging is clear, fuss-free and very clean and is also convenient to use in the shower.


The foam dispensed is very fine and gentle - almost airy.

There is sufficient lather resulting from the foam - about 2-3 pumps gives you enough foam to cleanse the whole face and neck. There isn't any particular scent to the foam but a little got on my lips and I swore it tasted a little salty.

The cleansing foam formula contains 19 ingredients including the star ingredients of the NCTF cocktail and Hyaluronic Acid; it also contains White Lily which is said to soothes irritated skin and provides protection against free radicals.
I like this cleanser very much - it's one of those ultra-gentle facial foams but it cleanses well enough that all traces of sebum on the skin is gone post-wash. Skin doesn't feel stripped or tight but it feels very very clean. I generally use this at night - I wash my face just before bed and this has been my current cleanser choice for a while (I leave the scrubs and other deep cleansing products for my showers and morning face-washes). 
I also prefer using this at night just before going to bed because that is when I apply the most skincare - according to Filorga, skin is oxygenated and optimally prepared to receive anti-ageing skincare after using the Filorga foam cleanser. 
*******************************************************************************************
The Filorga range is vast but there are 4 products that are touted as its best-sellers for a perfect complexion. Apart from the Foam Cleanser, the other 3 products include:
The

Hydra-Filler (SGD$94)

is a moisturiser that contains 94 ingredients, including a lipid-replenishing complex to boost epidermal production and re-programme the skin's natural hydration process. It also contains the NCTF cocktail and Hyaluronic Acid. It is recommended as a day or evening moisturiser and is said to be an ideal makeup base.
The Meso-Mask (SGD$79) is anti-wrinkle mask that also promises to impart radiance to skin. It contains 100 ingredients including the NCTF cocktail, Hyaluronic Acid, Rhamnose Sugar and an elastin/collagene complex. It is recommended to be used at least once a week (applied on the whole face, eye contour, neck and neckline) for about 15-30 minutes.
The

Sleep And Peel (SGD$110)

is a resurfacing night cream that contains 105 ingredients and acts as a cell renewal booster. In addition to the NCTF cocktail and Hyaluronic Acid, it contains 6 varieties of AHA and BHA acids to impart radiance, soften skin, relax fine lines and fade pigmentation flaws. It is recommended to be used nightly (or alternated every 2 days for very sensitive skin).
These 4 products form a complete skincare regime - cleansing, day/night skincare and a mask. In particular, I like the clean bold packaging in black and white ... well literally everything is stipulated clearly in black and white. For instance, take the packaging of the Sleep And Peel (which appeals the most to me out of the 3 other products) ....

The box gives you a little background in simple English about what Filorga is about and what Sleep And Peel does ...
Then it goes on to tell you exactly how many ingredients are present in the product and how many percent of these ingredients are active ingredients.

The only thing is that I personally prefer tube or pump packaging for creams and masks - I find it less messy and more hygienic. But this is nothing a clean spatula cannot overcome :)
And finally, I appreciate how the expiry date of the product is clearly printed on both the outer box packaging as well as the jar itself



*******************************************************************************************
The New Year is just around the corner and if you're itching to try out a new skincare range for rejuvenated and revitalised skin, Filorga might be one of the many new brands now available to us, that you might want to try. It is already retailing in Sephora with a price range of around SGD$41 to around the early-$100s from what I remember.
***************************************************************************************
Thanks for stopping by and have a great day ahead!
****************************************************************************************
Disclaimer: Products featured and information were furnished to me by the brand. All opinions expressed are my own and are unbiased.