Hello!
For Spring this year, Gucci has released a multi-faceted fragrance collection, The Flora Garden, to celebrate all the postive aspects of women - gorgeousness, grace, glamour, generosity and glory. The Flora Garden aims to allow women to express their different moods and emotions.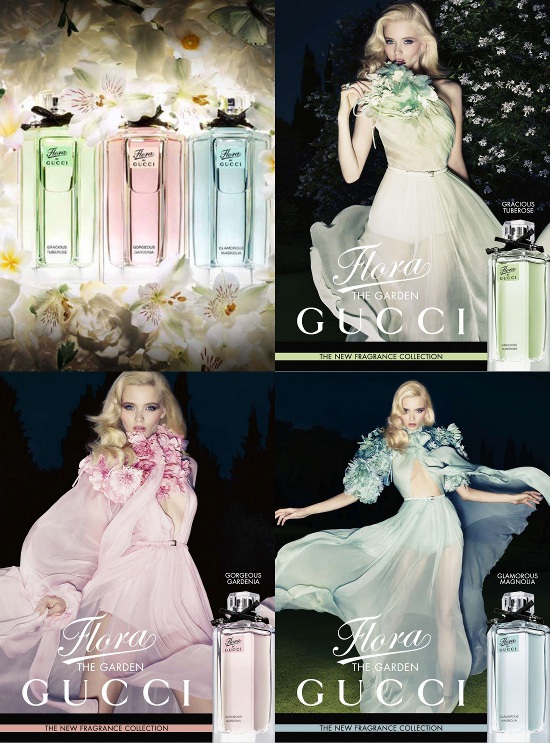 I like how each fragrance has a name specific to a characteristic - Gorgeous, Glamorous, Generous ... it's positive. optimistic and uplifting.
Gucci has interpreted the different names and created 5 distinct fragrances - each fragrance in the collection centres on one distinct flower and one particular colour. The 5 blooms were chosen from one of Gucci's most iconic scarf which was created specifically for Princess Grace of Monaco in 1966. The scarf (pictured below), was specially commissioned by the House of Gucci and the multi-hued floral print simply called FLORA was created.
FLORA, the print, served as an inspiration for the fashion house in 2005 and 2006 when the print appeared on fashion and accessories collections. Since then, it has served as inspiration for Flora by Gucci fragrances and now, the Flora Garden Collection.
I like the fact that this one single collection is so varied and it's rather easy to find at least one scent to be attracted to. I also love the colours used - it's like Aromatherapy meets Chromatherapy.
Let's take a closer look at 3 of the fragrances; I took the shots at the rooftop garden at my place among little flowering blooms for a real garden experience :)
Glamorous Magnolia
I love the flowers in this shot! I practically squealed when I found them!
Glamorous Magnolia is an intense warm floral - it opens a little bright with the Freesia and Citrus Zest which gives way to the floral heart of Peony and Magnolia. I find Glamorous Magnolia to be a little on the sweet side - immediately after I spritz it on, I feel like I'm catching whiffs of jelly beans. Apart from this slight sweetness, there isn't any overt chocolate scent although Warm Chocolate is listed as a base note. I like Glamorous Magnolia for its mellow and sensous body - it's rich and velvety. I like this both during the day and night but I think it will make a great night fragrance in particular.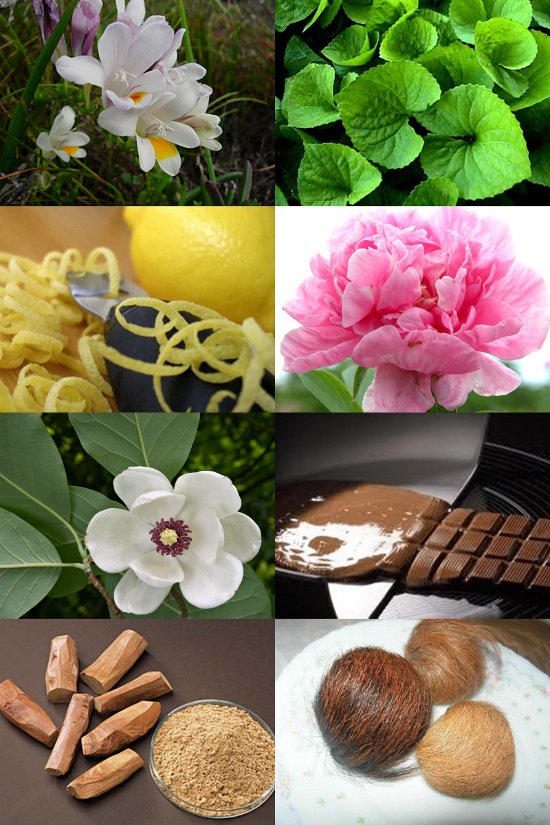 Clockwise: Freesia, Green Leaves, Citrus Zest, Peony, Magnolia, Warm Chocolate, Sandalwood, Musk
***********************************************************
Gracious Tuberose
Gracious Tuberouse is fresh and bright - it starts off a little green from the Violet Leaves and I thought I might not like it much but the green dissipates and what you get it a fresh white floral fragrance. I don't quite get the Peach or any other fruity accord. I love this fragrance because the floral heart is very reminiscent of a light jasmine - the Tuberose and Orange Flower have been interpreted in a fresh and light way so it isn't heady or cloying - perfect if you love jasmine-esque scents but can't take the headiness. Even the base notes of Cistus (Rock Rose) and White Cedarwood don't weigh the fragrance down - on my skin, the sillage remains beautifully delicate and elegant as the hours go by.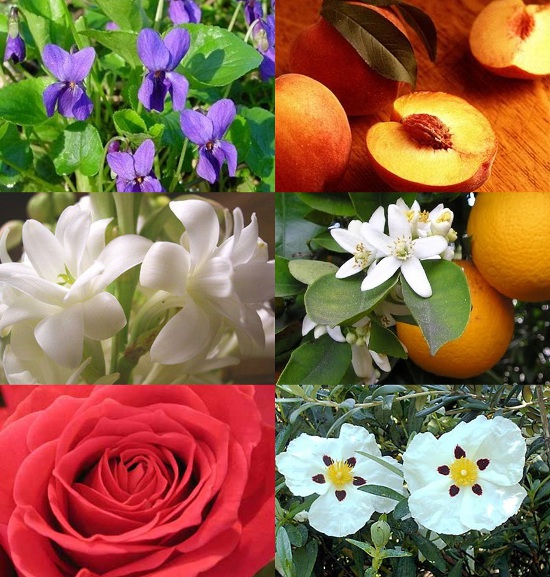 Clockwise: Violet Leaves, Peach, Tuberose, Orange Blossom, Rose, Cistus (not pictured: White Cedarwood)
********************************************************************
Gorgeous Gardenia
Of the 3, Gorgeous Gardenia is the sweetest of the lot. It is totally different from the kinds of Gardenia fragrances I've come across like Jo Malone's Vintage Gardenia or Marc Jacobs Splash in Gardenia.
I find the Red Berry notes dominate the entire fragrance despite being the top note. I would describe it as berry-tinged powdery fragrance - I think the powdery accords comes from the creamy Frangipani and the Patchouli.
I find this a very heavy fragrance - perhaps because it's not quite the type that I'm typically attracted to. It wears rich and lush on me - almost cloying. I passed this to my Mom and she quite likes it. It's a little reminiscent of the lush floral orientals she is attracted to.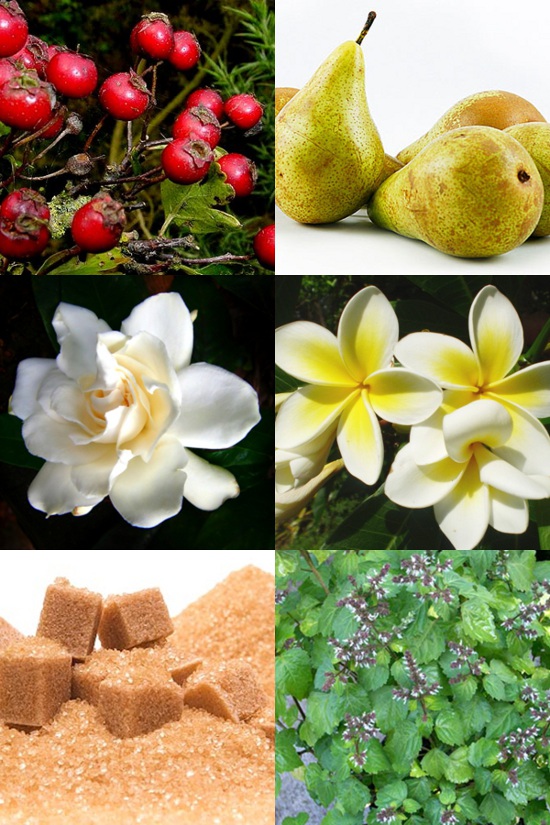 Clockwise: Red Berries, Pear, Gardenia, Frangipani, Brown Sugar, Patchouli
****************************************************************
Of the 3 I tried, I really like Glamorous Magnolia and Gracious Tuberose and I'll let you in on a little something - they are also really nice together! I accidentally left the fragrance strips with Glamorous Magnolia and Gracious Tuberose together and the fragrance mingled to give off a sweet, floral fragrance - a little rosy, a little sweet, a little jasminey and very pretty. I know these are not meant to be combined like Jo Malone's colognes but I tried combining them on myself anyway and miraculously, it worked!
Another thing I'd like to point out - although these are all Eau de Toilettes, they are rather intense. Unlike some EDTs where you can smell the acrid alcohol first before you get the scent, these scents are intense and last pretty long - for at least a good 6 hours.
There are another 2 fragrances - Glorious Mandarin and Generous Violet. These 2 fragrances are only available at the Gucci boutiques while the other 3, Glamorous Magnolia, Gracious Tuberose and Gorgeous Gardenia are available islandwide at all Gucci fragrance counters.
From memory, Glorious Mandarin is a bright, sunny jasmine-tinted floral citrus fragrance. I was surprised that I liked it at first whiff given I rarely fall for citrus fragrances. Generous Violet was a drier woodier scent.
The fragrances retail in 3 sizes:
30ml - SGD$93
50ml - SGD$113
100ml - SGD$168
**************************************************************
Overall, the Flora Garden Collection is a beguiling collection of 5 distinct fragrances - I think the fragrance families are distinct enough that there is bound to be something for someone to try and be attracted to.
***************************************************************
Thanks for stopping by and have a great day ahead!
****************************************************************
Disclaimer: Products featured were provided for consideration; all opinions are my own and have not been influenced by anyone.