Hello!
In May, in conjunction with it's anniversary, Jo Malone premiered a new fragrance, Plum Blossom.
I was hoping that Plum Blossom won't be one of those immensely fruity concoctions that several fragrance houses are so busy rolling out these days. And I was so thankful that Jo Malone has created an light but radiant white floral composition that immediately appealed to me.
Plum Blossom flower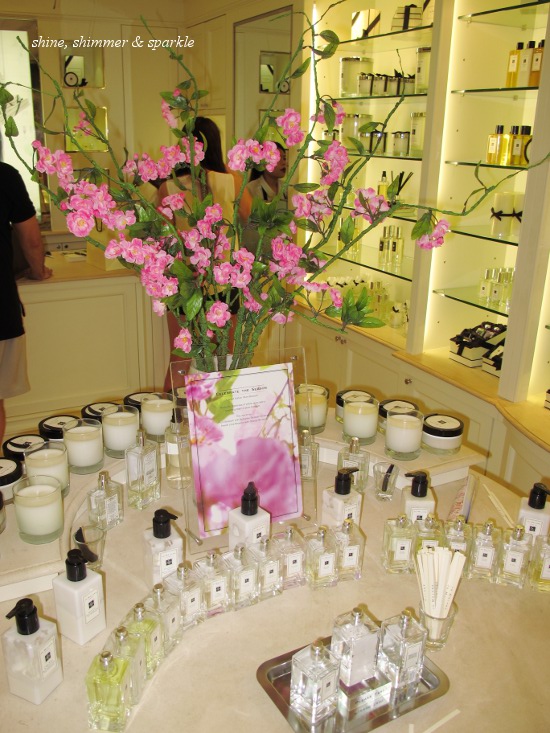 The bottle is a slight departure from the regular line-up. Instead of an opaque label, there is a semi-translucent white lable laced with etchings of the Plum Blossom flower on the bottle, keeping with the theme of delicateness
Which is really pretty hard to photograph clearly so here is a better shot ...
Also, around it's neck, is a pretty mauve-pink cord - the US Jo Malone website indicates that the cord is not part of the retail units but my bottle purchased at our local Jo Malone store came with the cord - not a major issue but it's aesthetically pleasing.
The top notes of Plum Blossom is yellow plum - I've had purple plums but doubt I've ever eaten a yellow one so I can't quite comment on how that is scented. There is no bite or tart tones from the yellow plum - in fact, the plum is not distinct to my nose. What is prominent in this fragrance is the white floral heart and the creamy sandalwood base.
Together the white florals and the creamy sandalwood create a soft, slightly warm floral fragrance that is light and unobstrusive. I associate pureness and innocence with Plum Blossom - I picture the first rays of the morning sun slowly centering light on a field of flowers glistening with dew. Something like this ....
Plum Blossom has been critiqued elsewhere for being a perfume for "non-perfume wearers" - several have pointed out that the sillage and longevity are less than stellar and that it's too much of a barely-there wisp of fragrance to be actually worn alone. I am used to and do revel in strong fragrances like Serge Lutens' Fleurs de Oranger so this would be of particular concern to me.
I have worn Plum Blossom on its own several times and it lasts a couple of hours on me - after perhaps the 4th hour, the scent fades a little and recedes to the background. However, I really like the soft sweet floral on my skin and so I got myself a Travalo refillable spray so I can tote a Plum Blossom decant with me. And what luck - there happens to be a Travalo atomiser that is practically the same shade of glistening mauve-pink as the cord on the Plum Blossom bottle!
As for layering fragrances which is a Jo Malone signature, Jo Malone recommends that Plum Blossom pairs well with English Pear & Freesia, Nectarine Blossom & Honey, Orange Blossom and French Lime Blossom. I have none of these - with the exception of Nectarine Blossom and Honey, the other 3 tend to take on a more sharp, tart note on me. 
Although not part of their recommendation, I instead adore the combination of Plum Blossom with White Lilac & Rhubarb
I don't know which fragrance enhances which but the resultant combination is a bright, sweet floral - a polished, genteel lady's fragrance, comforting, innocently sexy and alluring all at the same time. And the resultant longer-lasting sillage is a bonus.  An absolute new favourite combination. 
I've heard that Jo Malone has another new fragrance in the works for a fall release - Blackberry & Bay. I'm secretly hoping that Blackberry & Bay will take the non-fruity road like Plum Blossom has, and turn out to be a decadent spiced floral instead. 
In the meantime, I shall revel in the soft radiance of Plum Blossom and her new best friend, White Lilac & Rhubarb.
************************************************************************
Thanks for stopping by and have a great day!
*************************************************************************
Disclaimer: All products featured, Jo Malone & Travalo, were purchased with my own money. I am not affiliated to Jo Malone. All opinions are my own and have not been influenced by anyone.