Hello!
Recently launched and currently exclusively available at Changi International Airport, SK-II's latest offering is Stempower.
Stempower is SK-II's latest moisturiser which targets 10 signs of aging
How does it work?
Let's look at what SK-II happens to our skin as we age:
The skin loses its "radical firmness" as we age, creating problems like enlargened pore size, loss of radiance, sagging and so on.
At the cell layer, young cells have a spring structure in the basal layer, hence a springier touch.
So how do we correct the flattened structure and thin epidermis? 
SK-II discovered that in addition to the iconic rejuvenating Pitera, a new ingredient, Stem-Acanax, has the ability to stimulate and activate the root cells, thus re-creating the springy texture of the basal layer, as seen in younger looking skin. The Stem-Acanax is extracted from the root of the Siberian Ginseng.
Studies show that Stem-Acanax has the ability to stimulate the Lift-Protein and improve the springy structure of the basal layer of the skin as seen in the chart below.

The thing about SK-II's Stempower is that it claims to address 10 signs of aging in 10 DAYS. The SK-II Scientists use the Ageless Vector - 1 degree of change is equivalent to 1 year in ageing. A 1 degree increase reflects a 1 year increase in ageing and vice-versa.
And according to SK-II the Stem-Acanax and Pitera have the ability to reverse the ageless vector - it REDUCES the degrees instead, which contributes to younger looking skin. Perhaps not just younger LOOKING since it targets the root cells - perhaps younger skin altogether?
And SK-II has a suggestion as to how Stempower can be used to aid efficacy of the moisturiser:
The massage being demonstrated by SK-II's Beauty Consultant Training Manager from Thailand, the very youthful and pretty Niti - she had beautiful beautiful skin and her nails was the exact same deep crimson as the SK-II box (I know, Off-Topic but it was so distractingly attractive)
***********************************************************************************
I just finished my other moisturiser and have embarked on my Stempower journey last night. While at the SK-II event, I had a skin analysis which I shall share a little with you.
Using the handheld scanner on the left of the picture above, my skin was analysed on 5 dimensions: Firmness, Texture, Radiance, Spot Control and Wrinkle Resilience.
I came out of the analysis with good results in the Firmness (Elasticity) and Texture dimensions - the blue coloured bar indicates the national average in SK-II's database that my results are compared with. The purple stick indicates my results - in which case, I fared above the national average on these 2 dimensions! Yay!
I did ok in the wrinkle resilience area but didn't fare too well in the radiance and spot control dimensions. The recommended regime for me was thus: Facial Treatment Essence, Stempower and the Whitening Spots Specialist. Personally, I would be interested in the Wrinkle Resist also!
***********************************************************
I've since started using Stempower. First I patted in my SK-II Facial Treatment Essence (this is my existing bottle which I've been using for a little while)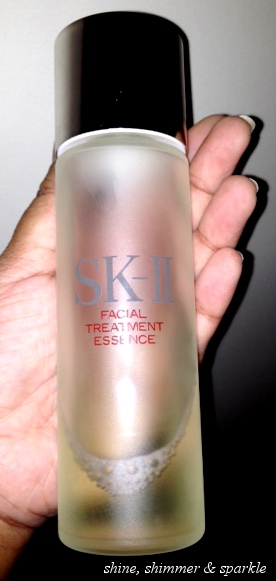 And then followed by a generous dollop of Stempower - I think it was a tad too generous actually
It smells slightly similar to the Facial Treatment Essence but much milder.
Texture-wise, it is actually rather dense - it took me a little while to completely massage all the moisturiser in and after that, my skin felt very moist. Very different from the previous moisturiser I was using (the Clarins Hydraquench   range which just disappears into skin). That said, Stempower didn't feel overly oily, greasy or floated on my skin - my skin was also not exceptionally oily this morning when I woke up. But I would definitely stick to just using this at night - I don't think I can handle this texture under my makeup in this heat.
I'm quite intrigued by the 10 Day claims, really. Let's see - I think one good way to see how it might be effective would be to see how much more nicely makeup might go on. Let's hope Stempower does something great for my skin! 
May The Power Be With Me ...
******************************************************************************
Stempower is now available at Changi International Airport and will roll out to the counters soon. It is available in 2 sizes - SGD$149 for a 50gm jar and SGD$219 for a 80gm jar.
Thanks for stopping by and have a great week ahead.
*******************************************************************************
Disclaimer: I am not affiliated to SK-II. Stempower Moisturiser was provided for consideration. SK-II Facial Treatment Essence featured was purchased with my own money.