Hello!
This last 2 weeks, I've been testing out the new Make Up For Ever Aqua Shadow Waterproof Eyeshadow Pencils and I really quite like them! 
The new Aqua Shadows are much like the MUFE Aqua Creams - only in jumbo pencil form. They can be used on their own, as bases or to line your eyes.
There are 12 shades in the Aqua Shadow range - 7 warm shimmering shades like Taupe Copper, Peach, Pink, Beige, Pink Beige and White and 5 matte shades like Black, Bown, Taupe Grey, Navy Blue and Green.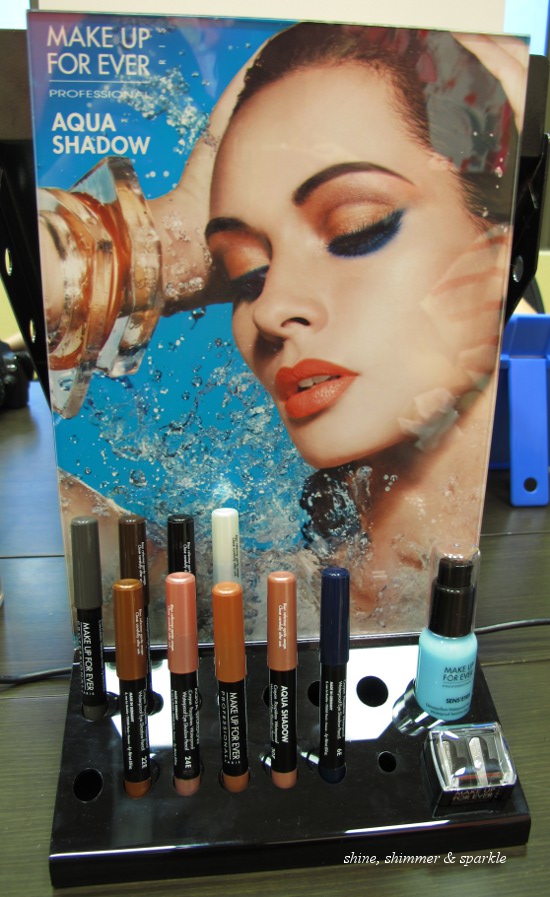 Needless to say, I really loved the shimmering shades - I really love the rose gold shade - 26E - and am waiting for the launch so I can purchase it!
These will retail at SGD$37 each.
MUFE says that these:
have buildable coverage for an intense finish

can be blended out with fingertips or brushes

set on the eyelid with silicone oils and PVP polymers

contain silica powder that contribute to easy, slide-on application
From using the Aqua Shadows, I agree with the claims - in it's instructions, MUFE also advises that these can be set with powder eyeshadow for a more long-lasting effect or if you know you have extremely oily eyelids (like me!). 
MUFE created 3 different looks as as part of the promotional campaign - one was a neutral look (Blended), the second used the Aqua Shadow in Navy Blue as a liner against a neutral lid (Visual) while the third featured a jet black lid with a more neutral crease - which they called Smoky. Of the 3, I really loved how the Smoky look turned out. Here are MUFE's step-by-step visual in creating the Smoky look.
Joey has posted images of the 2 other looks, Blended and Visual HERE

2 colours and a real nice statement look - I decided to give it a go myself. However, I didn't have 30E which was a pale pink beige and I'd prefer a warmer hue at any rate so I chose to use a warm peach hue in 28E
I really really like the Black 0E - it's perhaps the blackest black I have in my stash (and the most matte one) - its PURE black. I always wanted MAC Feline or Urban Decay Perversion but never got them since they were the smudgy types - this kind of makes up for those totally.
Here, I've applied 0E on my lids and 28E on my crease. Instead of the usual eyeshadow application where I apply eyeshadow generously, I used a flat brush to just pat eyeshadow on the lid and crease and blended the edges out - I wanted to just set the Aqua Shadow. 
I used the standard matte black from one of my Sleek eyeshadow palette over 0E and I used MAC Woodwinked over 28E (PS: I forgot what an awesome colour Woodwinked is!)
I did my usual liner because I like my wing-tip (although it's not in MUFE's guide) and after mascara, this is the final eyelook
The black on my waterline - it's also the Aqua Shadow Pencil in 0E - it's really pretty long-lasting and didn't migrate all over my lower lashline and undereye area.
And here is how it looks as a whole:
I used a much more nude shade of lipstick for this look - MUFE Rouge Artist Natural in 5N and topped it off with a little orange gloss - Chanel Calypso.
Eyes: MUFE Aqua Shadow 0E & 28E, MAC Eyeshadow Woodwinked, Sleek Matte Black
Mascara: Maybelline The Falsies
Eyeliner: Dollywink Liquid Eyeliner, MUFE Aqua Shadow 0E on waterline
Eyebrows: MAC Browset Clear
Cheeks: MAC Mineralised Blush Early Morning, Guerlain Cruel Gardenia
Lips: MUFE Rouge Artist Natural 5N, Chanel Glossimer Calypso
And I liked this look quite a bit - I wore it out a couple of times in a row - which I rarely ever do! I also realised that the matte black from the Sleek palettes is not as inky and solidly opaque as I thought. The other blacks I had in my other eyeshadow palettes were also not as black as I wanted it to be. So I went out and hunted for a matte black - and found a great one at Bobbi Brown.
I forsee myself doing this look often - perhaps with slightly different crease shades - lots of rich, warm golds, khakis in my Inglot stash as well as a rose gold here and there - I think rose gold with the black would look great. 
See? Me So Happy :P
********************************************************************************
The MUFE Aqua Shadow range is worth taking a look at - once you layer it on your eyelid and allow it to set, it seems to hold well, especially with a light layer of eyeshadow just to set everything.
I particularly like the range of shimmering warm nudes - flattering for a great range of skintones. My only wish is that they had made a shimmering version of the green - a jewel green like that can be quite hard to come by.
Thanks for stopping by and have a great week ahead
********************************************************************************
Disclaimer: MUFE Aqua Shadows and Rouge Artist Natural provided for consideration. I am not affiliated to MUFE; all opinions are my own and have not been influenced by anyone.