Hello!
I've used several products from the Origins line - Modern Friction for Face and Body, Zero Oil Toner, the Clear Improvement Active Charcoal Mask and some of the base and point makeup (when it was available in Singapore - they had very pretty eyeshadows and the lipsticks used to come in pink casings). However, Origins has 2 other very famous skincare ranges - Mega Mushroom developed by Dr Andrew Weil for Origins and Plantscription. 
Origins has boosted its Plantscription range and is now a complete anti-ageing arsenal - it currently comprises a face cleanser, a toning lotion, 2 eye treatments and a serum.
The star ingredient used in the entire Plantscription range is the use of Anogeissus. Native to West Africa, Anogeissus is worshipped by the West Africans for its anti-microbial and wound-healing properties. Origins prides it for its ability to protect collagen and boost skin's natural poduction of glycoproteins known as Fibrillin, which results in a firmer, younger-looking complexion.
Previously, the Plantscroption range comprised the star product, the serum and an eye-treatment. The range has now been expanded as a complete skincare routine. Let's take a closer look at the products in the Plantscription range.
*******************************************************
Plantscription Anti-Ageing Cleanser and Treatment Lotion - NEW!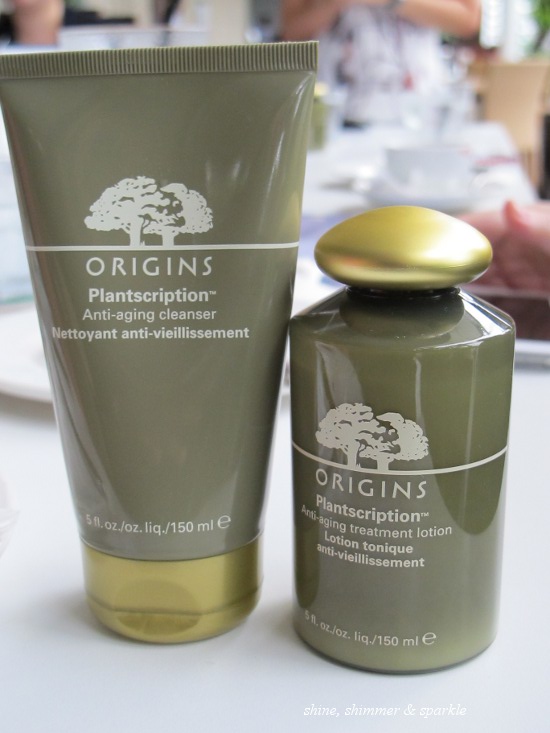 The Anti-Ageing Cleanser (SGD$53 / 150ml) is smooth, creamy and lathers well; so far, I find that it's a very gentle, neutral cleanser - neither is it overly moisturising or hydrating and neither does it strip skin and make skin dry. It contains Anogeissus, Oat Protein, Jasmine Flowers and Aloe Vera.
The Anti-Ageing Treatment Lotion (SGD$58 / 150ml) is a light milky-looking toning lotion - it feels soft and comfortable on skin, similar to how the Japanese and Korean softening lotions feel and aims to deliver softening and conditioning benefits to the skin as a prep to receive the nutrients from the subsequent skincare products to be applied. It contains Anogeissus, Jasmine Flowers, Caffeine and Aloe Leaf.
*****************************************************************************
There are 2 eye products in the Plantscription range. Both eye products retail at SGD$78 / 15ml. The Eye Treatment is an existing product in the range while the Eye Cream is NEW.
The Anti-Ageing Eye Treatment is light-weight and more of a gel-creme texture as you can see on the right. Apart from Anogeissus, it contains Kombucha (fermented black tea; repairs cross-hatching around eyes and saggy eyelids), Scutellaria (to improve skintone) and Magnolia (anti-irritant and reduces dark circles.
The Anti-Ageing Eye Cream in comparison is much richer in texture and is said to be an ultra-hydrating eye cream. It contains Anogeissus, Centaurium (restores elasticity), Cucumber (reduces dark circles), Squalene (rich in essential fatty acids) and Jojoba (moisturises and restores skin's protective barrier).
Here are how the textures look like - you can tell that the Eye TREATMENT is definitely more lightweight.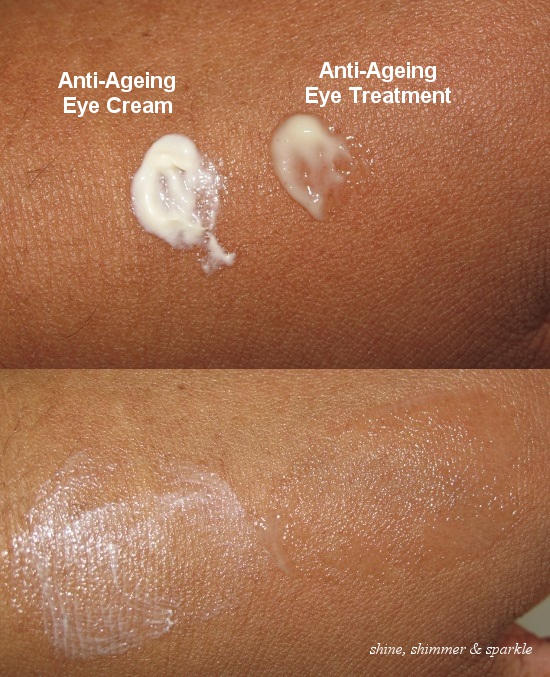 ***************************************************************************
And finally, the star and original product in the Plantscription line, the Anti-Ageing Serum (SGD$118 / 30ml)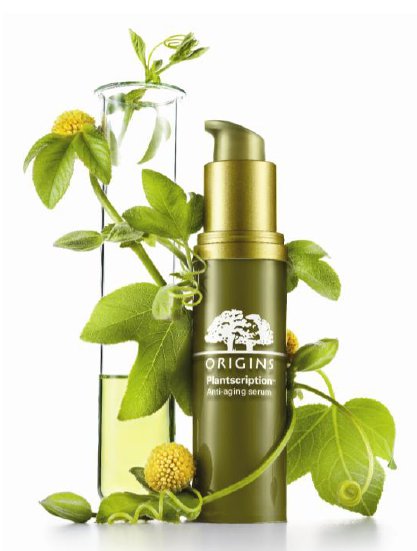 The genius that is the Plantscription Anti-Ageing serum is that it is said to have the power of a leading anti-wrinkle prescription ingredient but without the adverse effects of photosensitivity, skin shedding, burning, stinging, redness, dryness, flaking and itching. It is formulated with Anogeissus, Seigesbeckia, Rosemary extract, Vitamin C and Peptides which together, help build collagen and elastin in the skin, reducing depth and length of wrinkles. 
***********************************************************************
The new products in the Origins Plantscription range - the cleanser, treatment lotion and the eye cream will be available at all Origins counters from Aug 2012.
Thanks for stopping by and have a good week :)
**********************************************************************
Disclaimer: I am not affiliated to Origins; all opinions mentioned are my own. Technical information extracted from press kit furnished by the brand.