The Metro Ladies Night is here again - happening this Friday 23 Nov 2012 with lots of promotions and goodies for the attendees to enjoy.
Here are the event details:

Date: 23 Nov 2012

Unlike previous years, the Metro Ladies Night is now an exclusive event - to attend, you need to RSVP to score yourself an invite and I was told that there are only 50 available slots for the whole event, which leaves you ample elbow room to browse and choose the deals you want. The other plus point of the invite-only Ladies Night is that this time, YOU DON'T HAVE TO BE A METRO CARDMEMBER to enjoy the discounts and the activities - all you need is the invite!

Metro Singapore will be using a Facebook app called The Velvet Rope to give out invites to you. Here's how you can use the Velvet Rope app to score an invite:
Log on to Facebook and "

LIKE

" the METRO SINGAPORE FACEBOOK page HERE
Click on the VELVET ROPE tab

HERE
SHARE with a friend and RSVP - RSVP slots are limited to 50 ladies on a first-come, first-served basis)
Once you do this, you will also have an opportunity to make an e-reservation on some products exclusive to the Metro Ladies Night attendees via the Velvet Rope app on Facebook (e-reservations will commence from 20 Nov 2012 onwards). Since the slots are currently limited to only 50 attendees, Metro Singapore suggests you swiftly RSVP *swoosh*
******************************************************************************
20% storewide sales at Metro roll around as and when so what sets the Metro Ladies Night apart from the usual 20% sales? Here's a quick look at the promotions that will be made available to the all Ladies who RSVP and will be attending the Metro Ladies Night.
Up to an additional 10% on selected items - some of the brands available for the additional 10% include brands in the Bed Linen and Household departments, Menswear, Ladieswear, Shoes (Everbest & Scholl).
Exclusive items reserved via the Velvet Rope FB app
In addition, Ladies who possess a Metro Card enjoy some additional perks during the Metro Ladies Night
2X Metro Rebate for Metro-UOB Platinum Cardmembers with a minimum spend of SGD$400 nett
Metro Cardmember redemptions.
*********************************************************************

Here's a quick look at some of the events taking place during the Metro Ladies Night 2012!
There are a couple of events taking place at the counters of 4 major beauty brands in Metro Paragon - Biotherm, Kose, Shu Uemura and Clarins.
The Shu Uemura event will feature a live makeup demonstration using the Shu Uemura Holiday collection, the Karl Lagerfeld for Shu Uemura collection - I've had a look at the palettes and I love the purple-themed Prestigious Bordeaux eye and cheek palette.

I'll be at the Metro Ladies Night and will be at the Shu Uemura counter for a bit - I just purchased my 2nd bottle of the Face Architect Smooth Fit Fluid Foundation (review

HERE

) and I was thinking of checking out the loose powders to complement it. Metro and Shu Uemura have kindly extended a little gift for readers of this blog - quote the blog's name Shine, Shimmer & Sparkle and receive a 20ml Cleansing Oil sample (while stocks last).
Shu Uemura will also be having a special auction of the Mon Shu dolly - this is the 2nd auction of the special edition doll and bidding starts at SGD$20 and rises in multiples of SGD$5. You can participate in the bidding war by making any purchase at the Cosmetics and Fragrances department (ANY BRAND) to be entitled to a auction coupon. Who knows, you might be able to pose with Mon Shu Girl just like Mr K.L below :P

Clarins is another counter I often head to during the Metro sales to stock up on staples. During the Metro Ladies Night, Clarins will be showcasing their latest product the Double Serum, during a live demo from 8-9pm where you can learn the step-by-step techniques of using the Double Serum in an optimal way. Click

HERE

for my review of Clarins' Double Serum.

*******************************************************************************************

There are also some special deals from some beauty brands. Shu Uemura, Clarins and SK-II have special coffret sets at value-for-money prices while Estee Lauder, Biotherm and Kose have special GWPs. The Shu Uemura set seems like a good buy since it contains several items from the Mon Shu Collection, including a Mon Shu Girl tote. The SK-II set looks amazing (but it's out of my budget for now! Boo!)
In addition to these deals, there are more treats for Ladies who also hold the Metro Card: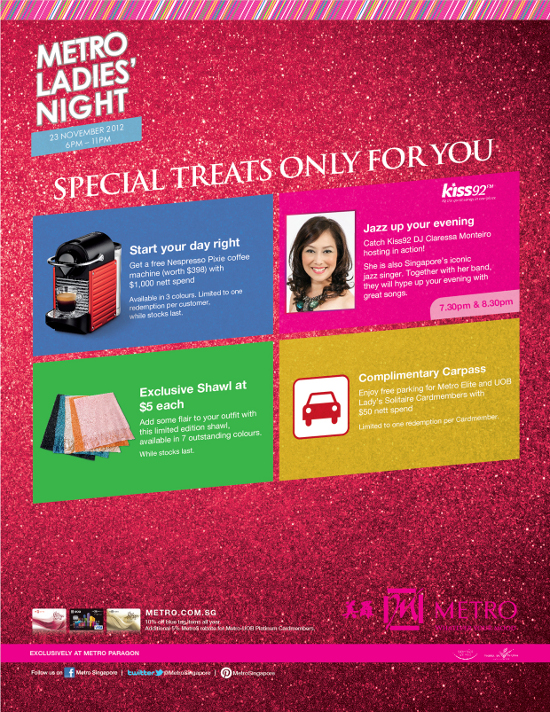 The complimentary car pass is much welcome - although I think that Paragon has a per-entry carpark charge of under SGD$3.48 after 6pm on weekdays. The deal I want most is really the Nespresso machine seeing how I am a coffee fiend but that warrants a SGD$1000 spend .. umm ... maybe at the Metro Ladies Night 2015 ... a girl can wish ya?
*******************************************************************************************

Lots of details but here's quick recap:
Metro Ladies Night is this coming Friday, 23 Nov 2012 from 6-11pm at Metro Paragon

Be one of the 50 attendees regardless of whether you own a Metro card - just RSVP via the Velvet Rope app on Metro Singapore's Facebook page

20% + additional 10% off selected items

Counter events at Biotherm, Kose, Shu Uemura and Clarins

Special Coffrets at Shu Uemura, Clarins and SK-II

GWPs with minimum purchases at Estee Lauder, Biotherm and Kose

Special Cardmember treats such as Nespresso machine redeemed against SGD$1000 purchase, complimentary carpass and so on ....
I'm definitely headed there to the Metro Ladies Night and I hope you will too :) Something to look forward to before the next glorious weekend comes around.
Thanks for stopping by and have a fab week ahead. Take care!
*******************************************************************************************
Disclaimer: This entry contains information provided by Metro Singapore and it's representative; images courtesy of Metro Singapore and Shu Uemura Singapore.