Hi!
Here is another installment of the Unsung Heroes series, which features quick, concise reviews on staples and favourites.
This time, I've picked 3 items I need daily - I cannot do without these 3 items at all. Must haves.
First, The Body Shop's Detangling Comb
I've been using this comb for many years - I lost the first one in the maze that is my room so this is the second one I bought.
It retails for about SGD$7.90. It is made of  beech wood and is stamped with the FSC insignia which means it comes from a well-managed sustainable forest under the rules of the Forest Stewardship Council. 
I love how the teeth of the comb are smooth, rounded and wide. Whe used on my wet hair, which is quite fine, it is able to very effectively remove a lot of tangles. I use very little conditioner and only on the ends since I have an oily scalp so this is totally necessary to comb out the kinks on the top and mid-sections of my hair.
I always use this before I wrap my hair in a thin towel (so the water gets absorbed into a towel while I do my makeup). It works for both longer and shorter lengths. I went on a chalet trip once and I forgot to pack this in and boy, did I have the toughest time with my hair the next day!
******************************************************************
Next up, Gatsby Oil Clear Sheets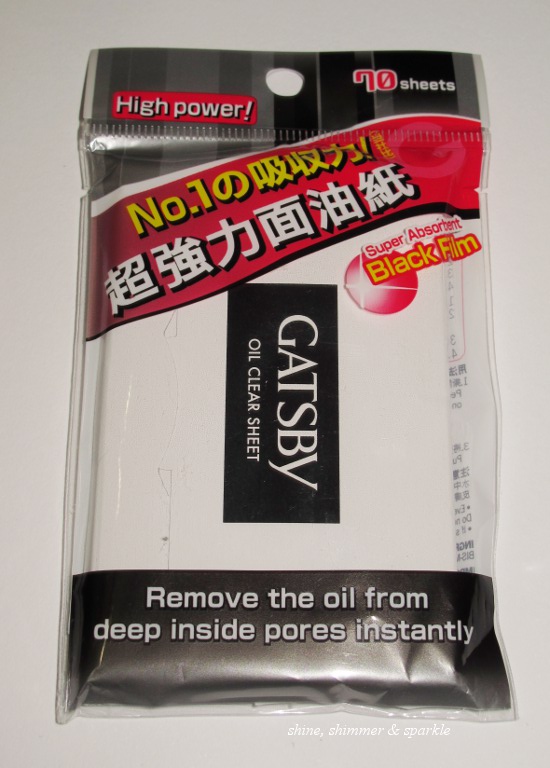 I've tried many many blotters in both film and paper variants like Clean & Clear, Lady Rose, Anna Sui and so on. Of all, I like the Gatsby Oil Clear Sheets the best. 
These black sheets are slightly larger than some others which is great since it covers a larger area on the forehead and cheeks. What I love about this the most is that it lifts up a lot of oil but doesn't disturb the makeup (I find that some others tend to lift off powder as well). 
Sometimes, after blotting, my Mom will comment "your face looks so fresh, like freshly done makeup"!
I don't like keeping it in the original packaging though. The paper casing is a little filmsy in my carry-all bags. So I transfer them into an Anna Sui case I received sometime back.
**********************************************************************
And finally, we have anti-perspirant. It's a hot, sweltering climate here and well, everyone perspires - it's natural and nothing to cringe about. What IS cringeworthy is when people neither want to acknowledge nor do anything about it. It's just basic personal hygiene and comfort and these 2 anti-perspirants, the  Nivea Extra Whitening Anti-Perspirant Stick and the Dove Whitening Anti-Perspirant & Deodorant are one of the best ones I've tried.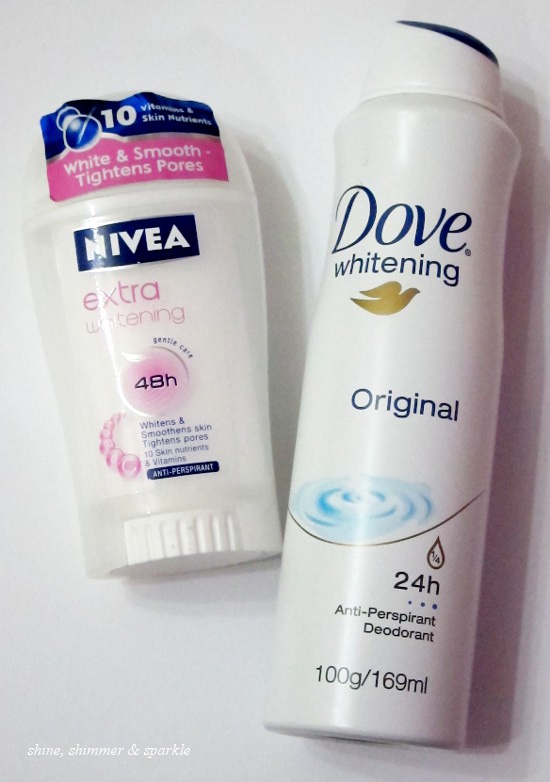 I generally prefer my anti-perspirants to smell of baby powder or just a general lotion/cream scent - other scents tend to interfere with my fragrances so these 2 are great in that sense. The Nivea stick has had a change of fragrance recently which I'm a tad annoyed with but still it's not something that's too bothersome.
I like these 2 primarily because they really work well - I don't tend to perspire excessively but on long long days sometimes it gets a little "moist" :P With either one of these anti-perspirants, there is virtually no moistness - at the same time, my skin does not feel so dry (when skin is so dry, it hurts when it chafes). (In case you are wondering, I use either the Dove or the Nivea - not both at the same time)
The Nivea stick has a dry balm-like texture, has a slight floral scent and is manufactured in Germany ....
While the Dove spray dispenses as a fine mist, is scented like the creamy Dove shower cream and is manufactured in Australia. In the US (in magazine ads), the Dove Whitening anti-perspirants are marketed as Clear Tone.
Both the Dove and Nivea anti-perspirants are easily available in Watsons and retail for under $7 each.
*********************************************************************************
That's all for this installment of Unsung Heroes.
What are your Unsung Heroes? Share!
Thanks for stopping by and have a great week!
**********************************************************************************
Disclaimer: All products featured were purchased with my own money.