Hello!
This holiday season, Laneige has released a limited edition Styling Romantic Holiday Makeup Collection.
Unlike the glitz and glamour quotient that many other brands tend to up in their holiday collections, Laneige opted for softer, gentler shades – in line with their theme of romantic tete-a-tetes, tender intimate moments and warm loving embraces.
In this collection, there are 2 multi-blushes (warm and cool), 2 complementing warm and cool lip-colour duos and 1 colour gradient eye palette.
I received both the multi-colour blush and the lip colour duo in the warm shades – hues of peach and coral all infused with a touch of gold
Let's look at the packaging first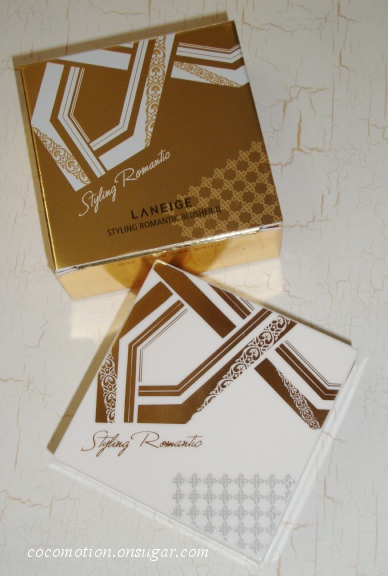 The blusher case is chic and pretty with the gold prints against a crisp white background. It is a little on the chunky side – about the same height as a Benefit blush but just a touch wider. The chunkiness has a reason though – it opens up to reveal a compartment housing a soft brush.
There are differing shades and textures in the Styling Romantic Blusher #2 (SGD$49) – a matte pale peach, a matte beige-peach, a shimmering reddened coral and a shimmering white-gold.
Here are the swatches of the individual shades.
The 2 matte shades pulled a little chalky on my skintone but I would have preferred if the 2 shimmering colours were portioned a little bigger in the palette (at least equally?) – that said, the reddened coral shows up well when applied with a heavier hand on the cheeks so I guess the 2 matte shades actually prevent you from having clown cheeks even if you're heavy handed.
When swirled and used as 1 shade, the effect is rather pretty – a nice golden peachy-coral. Given how I felt the matte shades were a little chalky on me, I first buffed a little cream blush in NARS Cactus Flower on my cheeks before applying the Laneige Multi-Blush. You can control which shade you apply more of – I usually swirl all 4 shades and apply the mixed colour onto my cheeks first and then tap my brush gently on the 2 shimmering shades and buff it in as a finishing touch.
I like how the 2 shimmering shades - I think more so the white-gold - actually act like a highlighter; I didn't use a separate highlighter or any MSF atop the blush and yet, it managed to catch the light. I like!
Mag has reviewed the cooler-toned Styling Romantic Blusher #1 which is a harmony of purples, pinks and lilacs - you can view her review HERE
In the shots above, I'm also using the Styling Lip Duo in SYR34 (SGD$32). The lipstick colour is a lovely peachy coral while the lipgloss is a shimmering peachy-coral that pulls a little milky on my lips. The only other lipstick I own from Laneige is from the Snow Crystal series – I think the textures are fairly similar in that they deliver colour without being dry, patchy.
The Lip Gloss is not sticky and surprisingly, despite being a little on the milky side, does not settle into the fine lines of my lips.
I had actually popped down to the stores to check out the Styling Romantic Eye Palette (SGD$45).
I have a couple of Laneige eyeshadows (a lovely copper brown, khaki green, golden blue which I've since depotted and have no idea what the actual names are! Silly!) and I know for a fact that their eyeshadow textures are silky and are rather pigmented. Unfortunately, both times, the Laneige BA (at Metro Paragon and Metro City Square Mall) informed me that the palette was not available individually and had to be bought as a full set with the blush, lip duo and some deluxe-sized skincare all packed in a Christmas coffret. L L L And to make matters worse, the white gold, purple-taupe and smoky espresso shades all swatched very very prettily (sorry, I couldn't get a pic of the swatches; didn't have my cam with me on both occasions)
***************************************************************

Here are some of Laneige's other skincare coffrets specially available for Christmas this year – when I was at the Laneige counter yesterday to enquire about the eyeshadow palette, the counter was thronged with ladies wanting to pick up these value sets
******************************************************
Thanks for stopping by and have a lovely weekend.
Its work work work for me!
*******************************************************
Disclaimer: Laneige products featured were sent to me for review. I am not affiliated to Laneige. All opinions expressed are my own and have not been influenced by anyone.