In 2011, Jo Malone launched the Tea Fragrance Blends collection much to the delight of tea-note enthusiasts in the fragrance world. Inspired by the quintessential British tradition and love for tea, the 5 fragrances, Sweet Milk, Sweet Lemon, Fresh Mint Leaf, Assam and Grapefruit and Earl Grey and Cucumber featured notes typically found in popular tea blends - spices like aniseed and cardomon, milk, caramel, vanilla, lemon, bergamot, Assam Tea and rose were some of the notes featured across the 5 fragrances.

The delicate brews were snapped up everywhere, including at our Jo Malone boutique in Ngee Ann City. I remember taking a whiff and liking Earl Grey and Cucumber and Sweet Milk (though I remember I kept thinking Sweet Milk had a coconut note to it) - by the time I decided I wanted one of them ... POOOF! All gone.

If like me, you were one of those who missed out on the collection last year, Jo Malone is bringing back and adding to its permanent collection, the Earl Grey and Cucumber fragrance.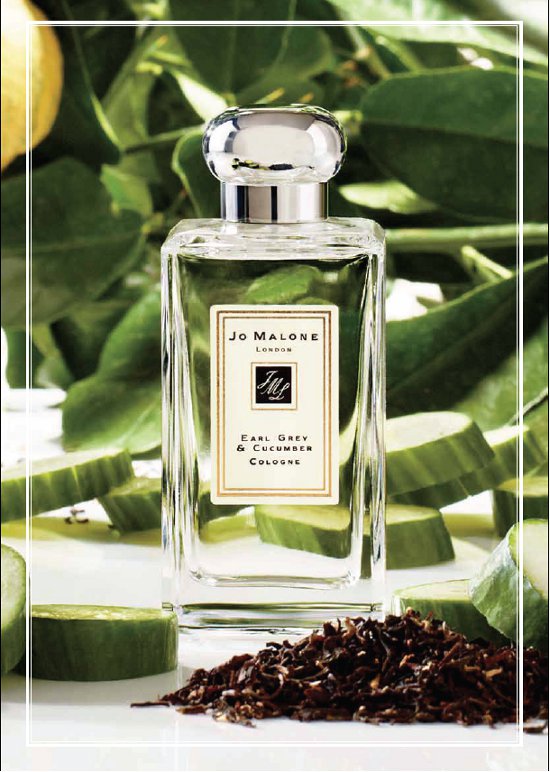 Earl Grey and Cucumber is a homage to one of the most famous British tea-blends, Earl Grey. 

It features Head Notes of Bergamot, Apple, Jasmine and Aquatic Notes, a heart of Angelica, Cucumber and Davana and has a base of Beeswax, Vanilla, Cedar and Musk. 

In the Jo Malone tradition of fragrance layering, Earl Grey and Cucumber is recommended to be paired with Grapefruit for a bright, uplifting and fruity concoction while Nutmeg and Ginger will warm it up.
While the original Tea Collection featured the 5 fragrances in only one size of 30ml, Earl Grey and Cucumber will now be available in both 30ml (SGD$95) and 100ml (SGD$190).
*******************************************************************************************
Earl Grey and Cucumber will be available from January 2013 onwards and if you missed it in 2011 or would like to re-stock, pop by any of the 3 Jo Malone boutiques located in Ngee Ann City, The Shoppes at Marina Bay Sands or Tangs Beauty (Tangs Orchard) soon. 
Click HERE to check out the rest of the Jo Malone fragrances I've featured :)
                                           PS: Elaine ... you NEED this :P
                                 Thanks for stopping by and have a great day!
*******************************************************************************************
Disclaimer: This entry contains images and information extracted from a press file furnished by the brand. All opinions expressed are my own and unbiased.