Hello and hope you are all well :)
Escentials has introduced another new niche skincare brand, Radical Skincare. Developed by 2 sisters, Liz and Rachel Edlich, Radical Skincare is a complete anti-aging range that prides itself on "unbeatable" potency results.
The mantra of Radical Skincare is beautiful ...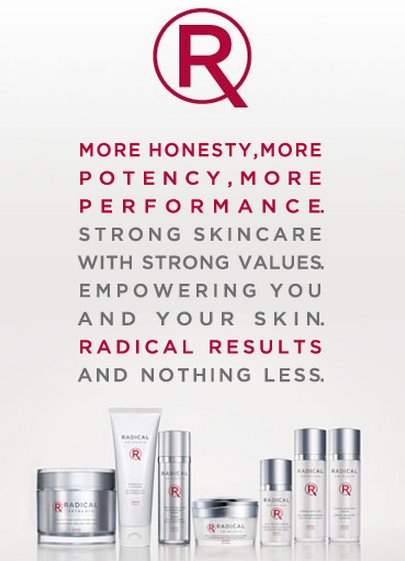 The Edlich sisters, with their strong background and personal interest in the science of skin rejuvenation as well as witnessing first-hand, the effects of aging on their own skin, wanted to share these anti-aging elixirs with the world. The Radical Skincare range was initially created with no intention for retail, however the results they witnessed from the formula were too good to be kept to themselves.
To this end, the Edlich sisters decided that Radical Skincare would be "committed to putting money in the bottle and not around it" - which speaks for the simple, functional, no-frills packaging and the potent, anti-oxidant packed formulas.
Each of the products in the range harness a unique technology called Trylacel. Radical Skincare products use ingredients that are very high in antioxidants like berries.

However, it's of little use jamming the formula with these fantastic ingredients if the potency decreases - over time and exposure to base suspension formulas like creams and gels, the anti-oxidant properties of the ingredients dissipates, making them less effective into protecting skin. This could be one reason why despite faithfully using anti-aging skincare for a extended period of time, the aging process still continues.

Understanding this, Radical Skincare laboratories developed Trylacel - it combines and encapsulates the anti-oxidant properties of the ingredients at maximum levels and maintains it with other reparative and soothing agents in a bi-lipid level. USDA laboratories found that Radical Skincare products were 300% more potent in anti-oxidants than other skincare brands. The following video explains the Trylacel Technology more clearly, with diagrams.

*******************************************************************************************
Let's take a quick look at the product line - it is a complete skincare regime with a cleanser, serum, moisturiser and treatments.



With 74.3% active ingredients, the cleanser works to cleanse, tone and hydrate skin in one step with ingredients such as Wheat Protein, Sweet Almond, Sunflower and Soy Oils to nourish and hydrate skin.
Anti-Aging Restorative Moisture Creme - SGD$215
With 78.85% active ingredient, the moisturiser is infused with agents like Hylasome EG10, Synovea and Uniprosyn PS-18 - in combination, these ingredients help detoxify and soften skin, while imparting radiance, luminosity and elasticity.

Peptide-Infused Anti-Oxidant Serum - SGD$275
The star-product contains 82% active ingredients that shield skin from free radicals - in-vitro tests show that it has a proven 300% more potent formula than other leading brand serums with noticeable increase in skin collagen and elasticity in a matter of weeks. This serum houses 15 anti-oxidants such as grapeseeds and other complexes that boost elasticity, firmess, hydration and fight against wrinkles.
Eye Revive Cream - SGD$180
With 80.95% active ingredients, the eye cream targets 4 eye concerns - hydrating, reducing puffiness, decreasing discolouration and dark eye circles as well as diminishing wrinkle depth up to 50% in 4 weeks. 
Firming Neck and Décoletté Gel - SGD$180
With 90.45% active ingredients, the Neck and Décoletté Gel contains Vitamin C and Aqua Cacteen that immediately work to tighten skin and improve elasticity while also evening out skintone - for a firmer, smoother, brighter neck.
Age-Defying Exfoliating Pads - SGD$135
With 94.85% active ingredients, these anti-aging exfoliating pads contain Glycolic Acid, Chamomile and AHA and BHA multi-fruit acid pads to exfoliate dulling dead skin cells, promote cell turnover and are proven to tighten and firm skin, reduce pore size and lines while preserving skin hydration and nourishment. It is also said to be suitable for sensitive skin.
Of the lot, the product that interests me most are the Age-Defying Exfoliating Pads. I'm a fan of such exfoliators and I currently use the exfoliating pads from Philosophy. I swear, with pads like these, you can really see the dead skin and what not coming off your skin and they leave skin much cleaner and clearer. 
Radical Skincare also has a video on how you can effectively use these products in your skincare regime


Radical Skincare is available at all Escentials Boutiques at Paragon, Tangs Orchard and The Shoppes at Marina Bay Sands.
*******************************************************************************************
                        Thanks for stopping by and have a jolly day ahead!
*******************************************************************************************
Disclaimer: This entry contains some images and information extracted from a press file furnished by the brand and its representative. All opinions expressed are my own and unbiased.